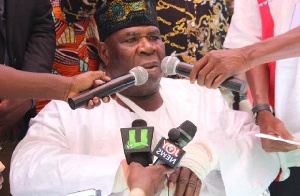 Daniel Bugri Naabu has been unseated as the Northern Regional chairman of the New Patriotic Party (NPP).
Mohammed A. Baatima Samba, a financier of the party, defeated the outspoken chairman, garnering 312 votes whiles Mr Bugri Naabu polled 116.

A few days before the regional elections, Mr Daniel Bugri Naabu was involved in a car accident and was hospitalized and later discharged.

Before voting commenced at the Aliu Mahama Stadium in Tamale, the said accident vehicle was brought to the venue to prove to delegates that the accident was not staged as suggested by his opponents.

Many also believed that it was an attempt to get sympathy votes from the delegates but that could not help as he failed to retain his seat.

Five hundred and sixty-six delegates participated in the Northern Regional delegates' conference from 29 constituencies.
The newly elected regional chairman, Alhaji Adam Baatima Samba, thanked the delegates and the Electoral Commission for a peaceful election.

He assured party supporters in the region that he was going to work hard with the executives to win the 22 seats in the region for the party.

Chairman Samba appealed to the other chairman aspirants to put their defeat behind them and join hands with him to make the NPP more formidable towards election 2020.

"When you go into an election, you either win or lose and so I appeal to my other colleague chairman aspirants to join hands with me to win the 22 seats for the party come 2020," he entreated.

Hajia Rahana Aziz was elected the Northern Regional Women's Organizer whiles Mohammed Alhassan Ghana was elected as the Regional Youth Organizer.
Alhaji Alhassan Sibidow won the Regional Treasurer slot, with Haruna Iddrisu elected Assistant Secretary.

Sule Salifu, current Youth Employment Agency (YEA) Director, was unseated by Lawyer Sule Sambian as the Regional Secretary whiles Shamuna Ilyasu retained his seat as the Nasara Coordinator.

Alhaji Sunday was elected the First Vice Chairman and Felicia Tetteh won the Second Vice position with Rashid Salifu elected the Regional Organizer.