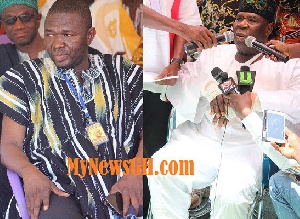 An aide to defeated Northern Regional Chairman of the New Patriotic Party (NPP), Daniel Bugri Naabu has broken spoken over circumstances surrounding his refusal to accept GH¢50,000 from Mohammed A Baantima Samba who contested with him at the Regional Delegates Conference.
Last week, MyNewsGH.com reported that Samba according to a member of his campaign team, went to the house of the injured Bugri Naabu to visit him and to sympathize with him on his accident.

Samba according to his team member, later presented GH¢50,000 to the former chairman to help him cater for some of his medical bills but he reportedly turned down the offer for reasons unknown.

"Samba gave him GH¢50,000 on Monday after the elections but he refused to receive the amount. I cannot tell why he did that", he disclosed on Tamale-based Diamond Fm.
Simark Sheraz, who is an aide to the former Chairman confirmed the gesture and subsequent rejection but explained that it was not necessary because Bugri Naabu had no need for the cash at that time.

"It was about three or four days ago. The man [Samba] came to the house with his newly elected team to greet Chairman Bugri Naabu. Bugri Naabu told them to make sure that the party is still on its feet to make sure that we win more parliamentary seats and get more votes for Nana Akufo-Addo."

"When they were leaving, then the man brought out an envelope. We in the room, we did not know how much was in it. The man told Chairman that he was giving him the envelope to help him pay his medical bills and buy drugs. But Chairman said no, he doesn't need it now. He [Bugri Naabu] said the time he was on his sick bed, that was when he needed it most. The envelope was not opened," Simark Sheraz explained.