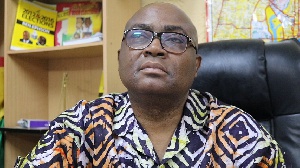 Managing Editor for Daily Dispatch, Mr. Ben Ephson has stated that Ghanaian celebrities and politicians have little or no influence on the general public when it comes to critical decision making during election periods.
Speaking on who has the most influence amongst politicians and celebrities, Mr. Ben Ephson answered that neither of them has any influence and that it is the person's choice at the end of the day that makes any point.

"I don't think that both of them have impact." He stated.

He said this in an interview on Kasapa Fm's Entertainment show with Kojo Preko Dankwa on the basis of whether or not the National Democratic Congress is right to take a decision on celebrities to man the campaign of a political party.

Mr. Ben Ephson indicated that he is in full support with the Former Deputy General Secretary of the National Democratic Congress; Mr. Koku Anyidoho's on his statement concerning celebrities no longer acting as frontiers during party campaign.

He pointed out that the presidential aspirant of the NDC, John Dramani Mahama during the commencement of his campaign, before announcing his candidacy touched on the subject at hand and had already made it clear that although celebrities are welcomed, their role in the coming elections will be monitored and thus limited.
"Earlier in his campaign, before he announced that he would contest, John Mahama himself saw and said that it is not that celebrities cannot campaign, but that he has canceled the celebrity formed groups. Therefore If you want to support him, then you would have to join the team and start from the branch." Ben Ephson said

Mr. Ben Ephson further explained that the celebrities in question do not help matters sometimes because they make the work of the organizers difficult. Despite raising this fact, he emphasized again that the decision is not for the celebrities not to campaign at all, but they will not be the headliners of the campaign.

"A national youth organizer has been elected, and others are doing youth work. So after you have joined a branch, you can campaign where you are." Ephson added

When asked if there is any evidence to show that there is an effective method in place which can be used to determine if a celebrity brought in any amount of votes after elections which helped the party, Mr. Ben Ephson answered that there are but there is nothing substantial to be recorded.

"Yes, there is a method in place which we use. But forget it. Yes, the people will buy your movies and songs, but they are not going to vote for the party who took out money to buy a car for you. The billboards do nothing. The celebrities also do nothing. If you are a celebrity and you can compose a song for the party, that's a different story. But there is no one who can say that because he or she is a celebrity, this party will get votes. That's a lie."
Pollster Ben Ephson added that the number of followers a celebrity has also meant nothing, mainly because he or she has that amount of following due to the fact that the followers like the person for their profession but not the party the person voted for.

"Apart from God in heaven, who can control your mind? Who can convince you about the purity or the cleanliness of what one is saying? He's got about one million people who like his acting. And mind you acting is make-believe. Or he's got one million who like his songs. The fact that I like your song doesn't mean that if you stand there and endorse someone, I will also vote for them."

In Ghana, celebrity endorsement rises with each passing general election. Their endorsements have reached a height where celebrities now form networks and groups to promote their choice of candidates. Whilst some are on the side of the biggest opposition NDC many others are for the ruling NPP.

The NDC's Presidential candidate, John Dramani Mahama was endorsed by Abeiku Santana, John Dumelo, Mr. Beautiful, Kalsum Sinare, Amanzeba, Bull Dog, Papa Nii, Rex Omar, Belinda Akua Amoah (MzBel), Paapa Yankson and others during the 2016 elections.

On the other hand, individuals like Okraku Mantey, Daddy Lumba, Wisa, Kwabena Kwabena, Sidney, Socrates Sarfo, Matilda Asare, A-Plus, Kwaw Kesse, Cwesi Oteng, Great Ampong, Nana Ampadu, Leo Mensah, Maame Dokono etc. together with groups like Agya Koo agenda 57 for Nana Addo, all solidly behind the NPP's Nana Akuffo-Addo.