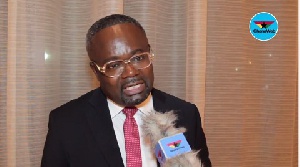 The founder of the Liberal Party of Ghana (LPG), Kofi Akpaloo is requesting government to convert dormitories into classrooms to create space in Senior High Schools for the admission of more students.
His proposal follows the introduction of the double track system by government, to create more spaces for students benefitting from the Free SHS policy.

The system has already taken off in about 400 out of 696 schools across the country, for the next 7 years.

Government explains that the move was to ensure that no qualified child was left out of the Free SHS admission due to infrastructure challenges.

But, the leader and founder of the LPG party believes converting dormitories into classrooms will resolve the current space challenges confronted by government so far.

He said, "Our proposal is simple, to convert all existing dormitories into classrooms. We've to accommodate all the kids to go to school at once, we don't need to keep some in school and some home, to me it doesn't make sense, because we haven't thought about the long term effect this will bring. If we are able to convert all the dormitories into classrooms we will be able to accommodate every child to go to school, most especially schools in the urban areas".
Mr. Akpaloo has also downplayed concerns that the free SHS policy was rushed through by the current government.

He noted, "The policy isn't bad at all, the implementation is where we are having problems and anytime that we try to implement something new definitely you are bound to meet these problems so it is not new."



He added "We don't have anything against the policy itself, but we the implementation we have to suggest ways we should all go so it can help the nation, because it's about the nation, it's not about any political party".

On the future plans to absorb the Free SHS graduates into the tertiary institutions, Mr. Akpaloo urged government to start investing in the expansion of the public tertiary institutions ahead of their graduation.
"…and also as we are putting more kids in school definitely they have to graduate from SHS and go to the university and polytechnics, how prepared are we to absorb these ids when they graduate from SHS, we should also look at that, all requires money, so we should find money to invest in that area as well".