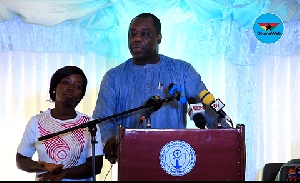 The Centre for Learning Disabilities Assessment has joined critics in the condemning the Double Track System introduced by government.
According to the Non-Governmental Organization (NGO), the new system would cause learning disability issues and worsen the performance of students.

A statement signed and issued yesterday by the Head of the Centre, Musah Abdulai, said "The Center fear the double track system will worsen the performance of students with Dyslexia and Dyscalculia in the general classroom and future West Africa Senior Secondary School Certificate Examination."

The double tracking system, which commenced this month, was introduced this year to reduce the congestion issues in schools brought on by governments flagship Free SHS programme.

Over 400,000 students are expected to begin the double track system introduced by government.

However, the Centre believes government's education policies only aims at increasing enrollment but not solving core issues affecting students in the general classroom.
They argued that the students are already facing numerous challenges with the current system.



The Centre further called on government and the Ministry of Education to be cautious not to deepen the plights of students with learning disabilities and attention Issues.

School Placement

Meanwhile, the placement of students into Senior High Schools has been hit with massive confusion.
Out of the 490,514 qualified students, only 423,134 have been placed under the Computerized School Selection Placement System (CSSPS).



This caused worried guardians besieging the Independence Square to secure schools for their wards.

However, the Education Ministry has explained that the remaining 67,382 students could not be placed because they could not meet the requirement of the schools they chose.

The over 60, 000, students, the Education Ministry explained could not be placed because they could not be matched with any of their school choices.


Under the new system, students have been put on green and gold tracks.

Those on green tracks are expected to start school this month while those on gold tracks resume school in November.