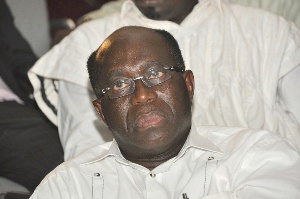 Mon, 22 Feb 2016 Source: kasapafmonline
Member of Parliament for Nhyieso, Dr Richard Anane has urged the New Patriotic Party (NPP) to rise and purge itself of recent happenings in the party which are alien to the Danquah Busia Dombo tradition.
According to him, the lack of respect for divergent viewpoints of others in the NPP if not immediately checked will have dire consequences for the party.

The largest opposition party has in the past one year experienced a lot of internal wrangling which has led to some very high-ranking party officials who are suspected of wanting to undermine and scuttle the chances of the party's Presidential Candidate for the November general election being suspended from the party.

Currently, the National Chairman, First Vice National Chairman and General Secretary of the Party, Paul Afoko, Sammy Crabbe and Kwabena Agyepong respectively have been suspended indefinitely.

Mr Afoko is however in court contesting his suspension. Some political watchers have since stated that this spree of suspensions by the party will impact negatively on the NPP's chances in the upcoming polls.
Speaking on TV 3's Hot Issues show, Dr Richard Anane, who is also a former Minister of Roads and Highways under the erstwhile Kufuor administration, stated that the NPP has never been noted for being intolerant of divergent views as is happening today.

"Lack of respect for the viewpoints of others in the party is very worrying. When you are in a party and accept the fact that it is made up of all manner of people, not all of them will share your view. This is one of the major things some of us think seem to be going on currently in the NPP which may not augur well for the party but because of its dynamism that it also why I believe the party will purge itself of whatever is alien and ensure that the true beliefs of the NPP succeed".

He added: "If you look at charges proffered against them then you want to believe that there is something amiss. We believe that whatever happens we should be able to solve our problems at home. My worry is that once this thing happens in the NPP, we should not be thinking it's just the NPP problem, we should be looking at the entire democratic dispensation in the country; because it could also happen in the NDC tomorrow, next time it could even happen to a presidential candidate, that is why some of us think that the party will have to sit up and purge itself of whatever that will not inure to the benefit of the democratic dispensation that we are in. I know the party is capable of doing this".
Source: kasapafmonline