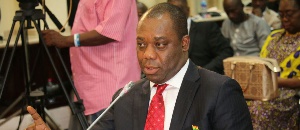 Hundreds of parents have stormed the premises of the Ministry of education to voice out their concerns about anomalies in the placements of their wards.
GBC's correspondent Nathaniel Nartey who is at the scene reports that a section of parents say they are against the Free SHS policy and demand to pay fees for their wards.

September 5 being the deadline for all BECE candidates to check their results and placement online, it is expected that most internet Cafés will be filled with parents and candidates, but the situation is quite different in the Tema Metropolis.

A visit to some Cafes indicate that just a handful of JHS graduates have called at those places to meet the deadline.

An attendant at the Vodafone Internet Center at Community One, said since the day the results and placements were released, a lot of parents have already called at the Center and successfully completed the process.

This morning there were just a few parents at the Center who were busily checking the results and placement of their wards.

Meanwhile, the Examination Coordinator at the Tema Office of the Ghana Education Service, Henry Ayetse, said some parents have called at the office to report their challenges in accessing the school placement for their wards and most of them have been assisted.
In a related development, the Chairman of the National Council of PTAs, Alex Yaw Danso, says the challenges associated with this year's placement of BECE graduates in Senior High Schools are nothing new.

According to him, this is an annual ritual that parents and students go through.

In an interview with Radio Ghana, Mr. Danso said there is no need extending the placement period.

He also blamed parents for not assisting their wards in their choice of schools and programmes, which can also be blamed for the current difficulties.