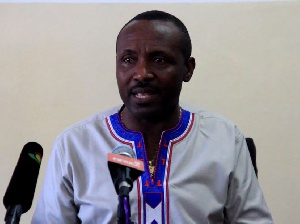 APRIL 30, 2018
PRESS CONFERENCE ADDRESSED BY JOHN BOADU, THE ACTING GENERAL SECRETARY OF THE NPP ON THE PARTY'S UPCOMING NATIONAL ANNUAL DELEGATES CONFERENCE

Good morning ladies and gentlemen of the Press

We have invited you here primarily to spell out the GUIDELINES for the conduct of the party's forthcoming National Annual Delegates Conference scheduled to come off in Koforidua, the Eastern Regional Capital from 15th to 17th June, 2018. The conference shall, among other things, elect National Officers who would steer the affairs of the party for the next four years. This National Annual Delegates Conference is being held pursuant to Article 10(2) & (3) of the Party's Constitution, which provides that the National Annual Delegates Conference be held at least four (4) weeks after the last Regional Annual Delegates Conference.

But before we let you into the details of the National Delegates Conference, the party wishes to use this opportunity to join the rest of the country to commend Isaac Dogbe on his latest victory which makes him Ghana's youngest ever boxing champion after knocking out Jessie Magdaleno in Philadelphia on Sunday morning, making him the new WBO super bantamweight/junior featherweight titleholder. We encourage other Ghanaian boxers to take a cue from his legendary resilience and win more international laurels for country.

RESPONSE TO FORMER PRESIDENT MAHAMA AND ASIEDU NKETIAH

The party again wishes to use this opportunity to respond to some comments made by ex-president John Mahama and Asiedu Nketiah over the week during their so called Unity Walk in Kumasi. The former President for instance, is on record to have slammed President Akufo-Addo and his government for waging a war against illegal mining and its debilitating effects on lives and the environment particularly our water bodies and forest reserves. He also sought to incite illegal miners against the government, suggesting that that if he became president tomorrow, he wouldn't clamp down on their activities and that, he would protect their interest. How incredulous!

We, in the NPP, have always known that the former president is such a desperate politician who would do anything for political power but what we did not know is that, his desperation has reached this outlandish extent. His comment is by far, the most opportunistic and reckless comment to have been made by any former Ghanaian leader. We condemn this recklessness in no uncertain terms and call on him to do the honourable thing.

The NPP also calls on all well meaning Ghanaians particularly the Media Coalition Against illegal mining to join the party in condemning with all vehemence, this unfortunate comment from John Mahama which seeks to erode all the gains that the nation had made in the fight against the galamsey menace on the altar of political expediency. It is most reprehensible, disgusting, repugnant and unbecoming of a statesman. John Mahama should be the last person to comment on issues of illegal mining having had the rare opportunity to govern this country for 8 years and doing absolutely nothing to fight the menace of illegal mining which was destroying the very fabric of the Ghanaian society.

Fortunately, we now have a caring president in Nana Addo Dankwa Akufo-Addo who did not only ban illegal mining in order to salvage this country and save innocent lives, but has also come out with an elaborate policy document detailing how to permanently address the menace including the provision of alternative source of livelihood for persons hitherto involved in illegal mining. Government's holistic approach to fighting the galamasey manace has not only received national applause from all well-meaning Ghanaians but has also been hailed by the international community.

We are however not surprise about the conduct of the former president because that is his stock in trade. With such desperation from him, it wouldn't be surprising if, tomorrow, we hear him blaming President Akufo-Addo for the woes of prisoners and telling for them he would ensure their release if they voted for. This is certainly not how we build a nation.

On Asiedu Nketiah, who also spoke at the event, where he stated categorically that the Nana-Addo led NPP government had legalized homosexuality, allowing for same sex marriage in the country, the party would ordinarily not respond to a character like Asiedu Nketiah who has reduced an otherwise serious business of politics to comic relief. But we are minded to respond to him because of the position he holds unfortunately. In doing so, we wholly associate ourselves with the befitting response he got from the Communications Directorate of the Office of the President in a statement issued same day.

The statement reads in part, "Speaking at the NDC's health/unity walk, on Saturday, 28th April, 2018, in Kumasi, the NDC General Secretary is reported to have stated that "Nana Addo says men will marry men, and women will marry women." This is nothing but a baseless and vile fabrication, by no less a person than the General Secretary of the leading opposition party in Ghana. For the avoidance of doubt, President Akufo-Addo has NEVER stated anywhere that, under his presidency, "men will marry men, and women will marry women".

Indeed, the President remains focused on delivering on his mandate, and improving on the quality of lives of the Ghanaian people. It will NOT be under his Presidency that same-sex marriage will be legalized in Ghana. We will neither ask for an apology or retraction from the NDC General Secretary, who, obviously, is still stuck in the age of the politics of lies, deceit and propaganda, which was rejected decisively by discerning Ghanaians in the 2016 general elections. We will rather appeal to Ghanaians to, once again, ignore the falsehoods of the NDC, and urge Mr. Asiedu Nketiah to concentrate his energies on uniting his divided and discredited party." There can't be a better response to Asiedu Nketiah's lies.

OVERVIEW OF REGIONAL ANNUAL DELEGATES CONFERENCES

The party, as would know, has successfully held Regional Annual Delegates Conferences to inter alia, elect regional executives in all the ten regions of the country between April 21, to 24, 2018 except for that of Northern Region which was delayed for a week. This was to allow for the remaining constituencies in the Northern Region that had not held their constituency delegates conference to do so. Eventually, the Northern Regional Annual Delegates Conference came off on Saturday, April 28.

On the national scale, it is gratifying to note that, out of the 275 constituencies in the country, the NPP has been able to successfully hold Constituency Annual Delegates Conferences in 271 constituencies constituting 98.5%.

Having said that, the party wishes to use this opportunity to acknowledge the maturity with which members of our great party and all stakeholders approached the conduct of these annual delegates' conferences which started from the polling station level to electoral area to constituency and now, regional level. The conferences, as all would attest to, were largely successful.

The party also commends the efforts of the 4-man committee comprising Sammy Awuku (chairman of the committee), Evans Nimako (secretary of the committee) Bob Agbontor (member) and Gary Nimako, which was constituted by the national steering committee to help in the resolution of the issues in all outstanding constituencies.

Again, the party wishes to use this opportunity to congratulate all the elected regional executives on their hard fought victory while commending the unsuccessful candidates for the productive competition and wishing them a better luck next time. We say, a big congratulation especially to the newly elected regional chairpersons comprising Anthony Namoo (Upper East), Thomas Adu Appiah (Brong Ahafo), Bernard Antwi Bosiako (Ashanti), Kingston Kissi Akomeng (Eastern), Makafui Kofi Woanyah (Volta) Robert Kutin Jnr. (Central), Mohammed Bantima Samba (Northern), Divine Otoo Agorhoom (Greater Accra), Francis Ndede Siah (Western) and their competent teams. The party reminds them of their primary mandate of working assiduously to deliver VICTORY 2020 for the party especially in their respective regions and the nation at large.

NATIONAL ANNUAL DELEGATES CONFERENCE

As noted, the National Annual Delegates Conference is being held pursuant to Article 10(2) & (3) of the party constitution which provides that, "The National Annual Delegates shall meet at least four (4) weeks after the last Regional Annual Delegates Conference". The conference, according to this provision, shall be attended by the following delegates:

a. Members of the National Council

b. Members of the National Executive Committee

c. All members of the Regional Executive Committee
d. All members of the Constituency Executive Committee

e. Fifteen (15) members of the National Council of Elders

f. Twelve (12) delegates from every external branch as defined under Article 8 (2) of the Party's Constitution

g. One (1) TESCON member, (i.e. the president or his/her designated representative) from each of the recognized tertiary institution in the Country.

h. Fifteen (15) Patrons elected from among themselves

i. Founding Members across the Country who are signatories to the registration documents of the Party at the Electoral Commission.

j. All NPP Members of Parliament in the Region; and,

k. All Party Members who are Ministers, Deputy Ministers, Metropolitan, Municipal and District Chief Executives (MMDCEs)

Also, per the constitution of our party, the presence of at least one-third (1/3) of the delegates to the National Annual Delegates Conference shall be necessary to constitute a quorum for the conference.

THE GUIDELINES FOR THE CONDUCT OF THE 2018 NATIONAL ANNUAL DELEGATES CONFERENCE FOR THE ELECTION OF NATIONAL OFFICERS PROVIDE AS FOLLOWS:

1. There shall be constituted, a National Elections Committee (NEC), which shall see to the conduct the National Officers' Elections to be held from June 15 to June 17, 2018 as a venue determined by the party's National Executive Committee.

2. The National Elections Committee (NEC) shall be composed of 5 members constituted as follows:

a. Three (3) persons appointed by the National Executive Committee, one of whom shall be designated as the Chairperson.

b. One (1) Representative of the National Council of Elders;

c. The Director of Research & Elections (Ag.) as Secretary to the Committee.

3. The 5 members who have been so appointed to constitute the National Elections Committee are:

a) Reverend Asante Antwi (Chairman – appointed by National Executive Committee)

b) Hackman Owusu Agyemang (appointed by National Executive Committee)

c) Mrs Ursula Owusu Ekufful (appointed by National Executive Committee)

d) Madam Agness Okudzeto (appointed by the National Council of Elders)

e) Evans Nimako (Secretary – Acting Director of Research and Elections)

4. A member of the National Elections Committee shall not be eligible to contest for any position in the National Elections.

5. The National Elections Committee shall be responsible for the vetting of all prospective candidates.

6. Nomination shall be open from Thursday May 3 to Thursday May 10, 2018
7. The Application Forms shall be accurately filled and submitted to the National Elections Committee not later than Tuesday May 15, 2018.

8. Vetting shall be held from Thursday May 17 to Thursday May 24, 2018.

9. Vetting report shall be released not later than Monday, May 28, 2018.

10. An applicant who is dissatisfied with the Vetting processes may appeal to the National Council of Elders within 3 Days for immediate redress and the decision of the National Council of Elders shall be final.

11. For the avoidance of doubt, no Applicant shall proceed to court in respect of any matter touching on this election until he/she has exhausted the internal party mechanism for resolving disputes in accordance with Article 4 (6) of the Party's Constitution.

12. Any prospective candidate who violates Regulation 11 and for that matter Article 4 of the party constitution shall be barred from contesting for any position in the national elections.

13. Any delegate, who wishes to appoint a proxy, shall apply to the National Elections Committee at least one (1) week before the National Annual Delegates Conference for confirmation.

14. Only delegates to the Annual Delegates Conference shall have the right to vote by proxy.

THE CONTESTANT:

15. A prospective aspirant must be an active and known member of the Party in good standing for at least five (5) years. Good standing is demonstrated by active participation in Party's activities and abiding by the Constitution and Rules and Regulations of the Party.

16. A prospective aspirant shall be a registered voter and shall prove with his or her Biometric ID card issued by the Electoral Commission of Ghana.

17. A prospective aspirant for any of the National officer's position shall be nominated by one (1) member of the National Council of Elders and seconded by ten (10) registered members of the party who are known and active and reside in the 10 Regions across the country, all of whom shall be in good standing.

18. ONLY prospective aspirants are entitled to purchase Application Form from the National Elections Committee.

19. A prospective aspirant shall pay a non-refundable application fees as follows;

a. National Chairperson - Ten Thousand Ghana cedis (GHC10,000.00)

b. Vice Chairperson - Eight Thousand Ghana cedis (GHC8,000.00)

c. General Secretary - Six Thousand Ghana cedis (GHC6,000.00)

d. All other positions apart from the Special Organs - Five Thousand Ghana cedis (GHC5,000.00)

e. Special Organs i.e. Youth, Women and Nasara - Three Thousand Ghana cedis (GHC3,000.00).

20. Application Forms shall be purchased at the NPP Headquarters, Asylum Down within working hours.

21. Prospective aspirants shall NOT be denied access to procure the Application Form within the working hours.

22. Three (3) passports sized photographs shall accompany each Application Form.

23. The Election shall be conducted by the Electoral Commission of Ghana and supported by the National Elections Committee.

24. All Officers shall hold office for four (4) years and may seek re-election.
25. The delegates to the conference shall vote with their party Membership Identity (ID) Cards but where same is unavailable, the National Voter's ID card may be admitted by the National Elections Committee for the purpose of voting.

26. The positions to be contested for are;

i. National Chairperson

ii. National First Vice Chairperson

iii. National Second Vice Chairperson

iv. National Third Vice Chairperson

v. General Secretary

vi. National Treasurer

vii. National Organizer

viii. National Women Organizer

ix. National Youth Organizer, and,

x. National Nasara Coordinator

27. For the avoidance of doubt, Article 10 (F)(6)(1) of the party constitution provides that, "there shall be three (3) National Vice Chairpersons ranked first, second and third according to the number of votes received at the election at the National Annual Delegates Conference".

DELEGATES FOR THE ELECTION OF EXECUTIVES FOR THE SPECIAL ORGANS OF THE PARTY

1. THE YOUTH WING (National Youth Organizer):

a. National Youth Organizer and the 2 Deputies.

b. All Regional Youth Organizers and Deputies.

c. All Constituency Youth Organizers and Deputies.

d. One (1) TESCON member from each of the recognized tertiary institution in the Country. For the avoidance of doubt, TESCON President shall represent their Institutions.

e. All NPP Members of Parliament below 40years.

f. All Party Members who are Ministers, Deputy Ministers, Metropolitan, Municipal and District Chief Executives (MMDCEs) who are below 40years.

g. All External Branch Youth Organizers

h. All former National Youth Organizers and the Deputies provided they are not more than 40 years.

2. THE WOMEN WING (National Women Organizer):
a. National Women Organizer and the 2 Deputies.

b. All Regional Women Organizers and Deputies.

c. All Constituency Women Organizers and Deputies.

d. One (1) TESCON Women Commissioner from each of the recognized tertiary institution in the Country.

e. All NPP female Members of Parliament.

f. All External Branch Women Organizers.

g. All female Ministers, Deputy Ministers, Metropolitan, Municipal and District Chief Executives (MMDCEs) who are members of the NPP.

h. All former National Women organizers and Deputies

3. THE NASARA WING (NATIONAL NASARA COORDINATOR)

a. National Nasara Coordinator.

b. All Regional Nasara Coordinators.

c. All Constituency Nasara Coordinators and Deputies

d. All External Branch Nasara Coordinators.

e. All Nasara Coordinators in each of the accredited TESCON Institutions in the Country.

f. All former National Nasara Coordinators.

CONCLUSION

The party wishes to appeal to all stakeholders particularly the prospective candidates for the various national executive positions in the upcoming impending National Annual Delegates Conference and their supporters to respect the rules of engagement and conduct this exercise with the necessary candour. Let us all commit ourselves to ensuing an incidence-free primaries for the love of our great party. We wish all the aspiring candidates the very best of luck in the elections.

Let us remain united and committed to the call of our party and government at all times. It has always been said that the NPP is the pacesetter and best example of democratic values for other political parties in the country and on the continent of Africa and we don't intend to lose this enviable recognition. Let it therefore be said that the NPP has done it once again. Let it be said that we came out of the 2018 primaries as a much stronger party.

Assalamu alaikum

Long live the NPP

Long live Mother Ghana