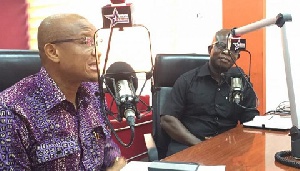 A former Executive Director of the National Service Scheme (NSS) Dr Michael Kpessa Whyte has dismissed government's assertion that Senior High School education is actually free.
The Akufo-Addo government launched its flagship Free SHS education programme in September 2017, scrapping fees at the second cycle level.

The programme is to ensure that every student eligible to enter second cycle institution gains admission with free meal and tuition. At the moment about 90,000 students who would have stayed out of school have been enrolled through the programme.

Assessing President Nana Addo Dankwa Akufo-Addo's one year in office against Ghana's celebration of 25 years of the Fourth Republic, Dr. Whyte said the government cannot boast about the programme because it is the tax payers' money it is using.

"Free SHS is not free. It's actually Ghanaians who are funding it. We are actually using the tax payers' money and putting it in a pot to fund it," Dr. Whyte told host of Morning Starr Francis Abban on Wednesday, 10 January 2018.
For his part, the Minister of Information Mustapha Hamid said the government has delivered on its promises and the Free SHS programme will "encourage everybody and give everyone the opportunity to" acquire education.

President Akufo-Addo is on record to have said the source of funding for the programme will mainly be from Ghana's natural resources.

"Instead of the revenues from our mineral and oil resources ending up in the hands of a few people, the most equitable and progressive way of using these revenues is to educate and empower our population to strengthen our nation. In so doing, we would be on the way to achieving UN Sustainable Development Goal no. 4, which calls for inclusive and equitable education, and the promotion of lifelong opportunities for all. As co-Chair of the Advocacy Group of Eminent Persons of the SDGs, their implementation is a matter of the highest public priority for me," Akufo-Addo said at the launch of the programme.