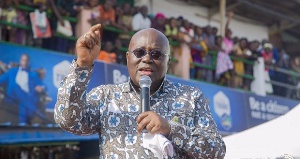 President Nana Addo Dankwa Akufo-Addo has assured Ghanaians that although the Free Senior High School policy may face some challenges in its implementation, the programme will be sustainable.
The policy which kicked off across the country on Monday, 11 September 2017 when first year students who were successfully placed in various SHSs were to report, has suffered some challenges as thousands of qualified students are still yet to be placed.

The opposition National Democratic Congress (NDC) has also questioned the sustainability of the policy.

But delivering an address at the launch of the Free SHS programme in Accra on Tuesday, 12 September 2017 Nana Akufo-Addo said his government is open to accept inputs from all quarters to make the programme long lasting and successful.
"As is with all human endeavours, we will certainly face challenges in the implementation of this policy of Free SHS despite our best preparation and efforts. We may falter but by the grace of the almighty God, we shall not fall for we will be ready in all humility to accept inputs and criticisms aimed at improving the policy," he stated.

He added: "The policy is not about the NPP or the NDC. The beneficiaries will not only be NPP members or sympathisers. They will be Ghanaians from all walks of life and from all political persuasions. This is about Ghana and how best to build a progressive and prosperous nation for this and future generations. Its constitutionality is not in doubt. All Ghanaians should support the policy to ensure its success."