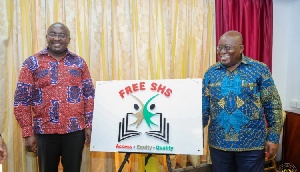 Lawyers have thrown their weight behind the Free Senior High School (SHS) scheme introduced by the Nana Akufo-Addo/Bawumia administration.
The Scheme has enrolled over 90,000 more second cycle students who would have dropped out of school. It covers tuition and other academic fees.

"We've just started the free Senior High School programme which aims to guarantee secondary education to all of Ghana's children. This programme will ensure that all our children will be educated to at least secondary level and money or the lack of it will no longer mean a denial of education".

"This has already led to an increase of over 90,000 children who have entered secondary school this academic year who otherwise would have dropped out at this stage," President Akufo-Addo said at the 72nd UN General Assembly.
The Ghana Bar Association (GBA) has lauded the move but wants the government to sustain it.

"Whilst we commend the Government for implementing the free SHS scheme, we urge Government to ensure its sustainability as well as ensuring that the facilities and programmes of tertiary institutions are updated and expanded early enough to accommodate the products of the free SHS scheme thereby assuring the needed quality throughout the education system in Ghana," the GBA said in a resolution at the end of its annual conference held in Sunyani.

The opposition National Democratic Congress (NDC) has also hailed the policy, but has called on government to sustain it.