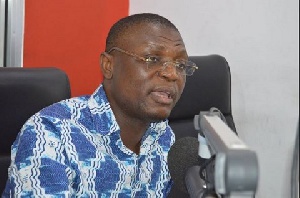 National Organiser of the opposition National Democratic Congress (NDC), Kofi Adams says Ghanaians must applaud the Akufo-Addo-led government's flagship program, the free Senior High School programme which has begun in all public Senior High Schools across the country.
He however would have wished the policy was accessible by first, second and third year Senior High School (SHS) students.

Kofi Adams recommended that government should put in place measures to make the policy "a long lasting" one that will be of benefit to all.

"There should be some quality attached to the free. The policy should benefit all including continuing students. It shouldn't be free only for freshers but to all. If possible, needy but brilliant students should have some privileges as well," he said.

The policy began in all public senior high schools across the country on Monday, September 11, 2017. An estimated 1.6 million eligible students between the ages of 15 and 17 years across the country, are expected to benefit from the policy.
It will make admission, examination, library and science laboratory fees free for junior high school (JHS) graduates who qualify for SHS.

President Nana Addo Dankwa Akufo-Addo is expected to officially launch the programme at the West Africa SHS (WASS) at Adentan in the Greater Accra Region on Tuesday.

Mr Edison Osei Gyamera, the Headmaster of WASS says the School is ready to host the launch.