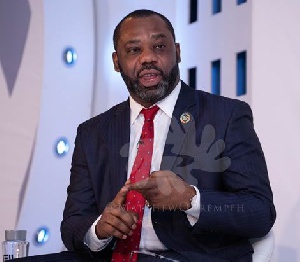 The President of the Ghana National Association of Teachers (GNAT) Philippa Larson has criticized suggestion by the Education minister that government is considering providing secondary school graduates with diplomas.
"It seems we are playing games with our education in Ghana and that is very dangerous and serious. Teachers are at the centre of education and development but unfortunately, we are not engaged or consulted when educational reforms are designed. The least level of qualification is a diploma in Education when it comes to our services.

"There are a lot of things that come to play when it comes to Teaching and Learning. Teaching is not necessarily about having Master's Degree but being equipped enough to deliver. Consultations haven't been good. Most of the time, we hear things on air and we get so surprised. It is very bad. Unfortunately, our Minister of Education knows everything. Whenever we make mention of our challenges, we are told the Minister is already aware," she told Francis Abban on the Morning Starr Monday.

The Education minister in a speech in Accra noted government is considering upgrading the certificates given to secondary graduates in order to reduce the years spent at the tertiary level.

"The curriculum that will appear for the Junior High School will lead to a National Higher Diploma. When you finish Senior High School, you get a National Diploma. It is not everybody who must go to the University straight, but we must prepare our kids for the world of work," the Minister of Education, Dr Mathew Opoku Prempeh popularly known as NAPO is reported to have said this at the 2019 Danquah Institute Leadership lecture on the theme: "World-Class Education an Imperative for the Next Generation of Leaders," he noted.
However, a statement from the ministry Monday said the minister was misrepresented in his earlier remarks.

"The Minister referred to the need for a strong and robust pre-tertiary education structure and noted that with such a system, a discussion on whether the current four-year undergraduate degree could be reduced to three years.

"Indeed, the Minister referred to the fact that prior to the 1987 reforms that saw the shift from the A level to the senior high school system, an undergraduate degree was three years, similar to and that in the case of the University of Ghana in particular, the first year was non-scoring referred to as First University Examinations (FUE).

"The Minister in his speech sought to trigger a national dialogue to potentially reconsider reverting to this undergraduate model, on the basis of a much improved and more robust senior high school curriculum so that students can be adequately prepared for a three-year undergraduate programme."