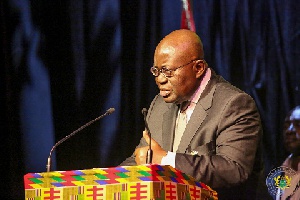 Ghanaians have expressed gratitude to the government for introducing the Free Senior High School (SHS) Education Policy.
A cross-section of Ghanaians in an interview with the Ghana News Agency on Tuesday said the policy was a good one and it would help Ghanaian children especially, the poor to have access to senior secondary education.

Mr Charles Huno, an Educationist said: "It is a very good programme that is being run by the government. My fear is its sustainability.

"It is heart warming that the poor, who could not afford to send their wards to the senior high schools, because of school fees, can now send them for free," he added.

Mr Joshua Abudu, a self-employed, said the Free SHS was a very good policy, which must be supported by all and sundry.

"My only challenge is, whether it will be sustainable. Time and time again, we have seen government projects collapse in this country. I hope this Free SHS policy will not be one of them," he added.
He also expressed the fear that because it was free, teachers might turn to relax in their delivery.

Mr Abudu said the Free SHS policy would eventually lead to a huge increase in SHSs enrolments; hence there was the need for the government to make sure that there were corresponding increases in school infrastructures.

A form two student of Presbyterian Boys' SHS, Legon, Accra, who pleaded anonymity appealed to the government to extend the policy to all SHS students.

The Free SHS Policy was on Tuesday launched by President Nana Addo Dankwa Akufo-Addo at the West Africa Senior High School, Adenta, Accra.

The Free SHS Policy is the flagship education programme of the government that seeks increase access to secondary education by removing the burden of paying fees from parents.
Under the policy, government would foot all bills including feeding fees, tuition fees and all other charges.

Over 420,000 eligible students would enjoy the programme which kicks started today September 12, 2017.