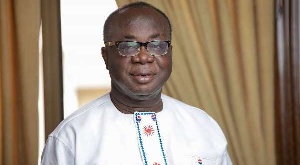 The New Patriotic Party (NPP) as a strong political force in Ghana can go ahead to endorse Mr Freddie Blay as the substantive chairman of the party at its delegate elections happening this weekend, Dr Aidoo has said.
Dr. Daniel Ato Aidoo, Policy Analyst for Kra Consult, comments on his Facebook page was a response to Kwadwo Mpiani, former Chief of Staff under the Kufuor administration who has insisted that it was a mistake for Freddie Blay to have been elected First Vice Chair since he has no roots in the Danquah-Busia tradition.

"So by Mr Mpiani's analogy, nobody can join the NPP and occupy a position when he has no roots in that political party? Then what is the essence of joining the NPP if one is to be only a praise singer in the party?", Dr Aidoo quizzed, adding "if Mr Mpiani's assumption holds the NPP will gradually become unattractive to people who will want to join it in the future".

Mr Kwadwo Mpiani was quoted as saying "The chairman of a party is the number person when it comes to the party so you must accord the person a lot of respect. You may not have voted for the person or like him/her but you are all in the same party," he told Raymond Acquah on Upfront, Wednesday.



He said he does not know if Freddie Blay, a former member of the Convention People's Party (CPP) is loyal to the party.

According to Dr Aidoo, in political loyalty can be sacrosanct, but it could also be induced through a process where people will conform to shared values, and use those values as the basis for serving an interest. That can also bring clarity to their roles and performance, adding "raising the issue of loyalty could generate perceived historical discrimination in the NPP's political discourse, though the party is inclusive".
On the former Chief of Staff's assertion that whether the CPP would make him [Mpiani] "a porter" if he were to defect from the NPP, for which he advised NPP delegates to vote based on the historical values of the party and chose loyalty, Dr. Aidoo said that stance needs to be subdued because being attached to a political ideology does not find reason in historical precedents alone but through the acceptance of a belief system that also recognizes how to accomplish the goal of democracy.



Dr Aidoo explained: "Freddie Blay since the NPP congress held in Sekondi in 2002 has shown love for the UP tradition, and it defies political logic when his loyalty was not questioned when the party was in opposition ".

"The NPP should rather take pride in political acceptability and how people from different political backgrounds can be part of them and vie for higher office, instead of fixating on individual loyalty, when globally political parties are accepting emerging constructs that provide new rules of engagement and norms in polity", Dr Aidoo advised.