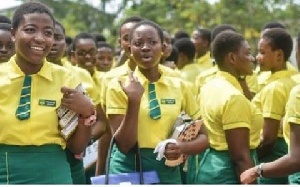 The Public Relations Officer of the Ministry of Education, Otoo Plaha, has revealed that the ministry and other relevant agencies are working to address all the challenges that have saddled the Computerised School Selection Placement System (CSSPS) this year.
According to him, there have been several challenges including the posting of students to schools for the deaf and dumb, as well as others not being placed at all, but efforts are being made to address the difficulties.

Mr Plaha told Valentina Ofori-Afriyie on the 505 programme on Class 91.3FM on Wednesday, September 6 that: "There have been vast improvements on the placement. Initially when we started there were problems with the website, but now NITA has been able to help resolve it. Things are now moving at a faster pace although there are a few problems which need to be resolved.
"We have some people who still have not been placed, and we will see whether we will move the time a bit up. There were some few people who had challenges with the placement. Some people were placed to the school for the deaf and dumb, those are issues that will be taken on and corrected.

"Some had not gotten the schools at all and so we are working on them to see that everybody is placed before we move forward."