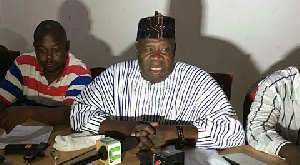 The constituency women organiser of the ruling New Patriotic Party (NPP) in the Tamale South Constituency, Afishetu Abdul-Wahab has rendered an unqualified apology to the Northern regional chairman of the party,Mr Daniel Bugri Naabu.
The apology comes on the back of calls on the constituency executives of the party to punish Madam Afishetu for her role in the infamous Bugri Naabu-Otiko saga.

The constituency women organiser is alleged to have supported the Minister for Gender, Women and Children Affairs, Madam Afisah Otiko Djaba when the latter met some party members without the express knowledge of the chairman.

Ms Djaba was meeting some members of the party when Mr Naabu, who was not very happy with the meeting, stormed the venue in the company of party members and allegedly scattered the meeting.

The regional chairman had indicated that Ms Djaba had no right to organise such a meeting without informing the executives of the party in the region.

Police were subsequently called in to calm the situation.
The Regional Women Organiser of the party, Hajia Safia was suspended for allegedly causing confusion in the party with the Gender Minister.

Mr Naabu and Ms Djaba were subsequently hauled before the second highest decision making body of the party, the National Council, where the two were reprimanded and asked to present written apologies.

In the midst of the confusion, there were calls on the Tamale South Constituency Executives to sanction Madam Afishetu for supporting the Gender Minister in her action.

But in a letter addressed to Mr Naabu and copied to the Regional Council of Elders and the Acting General Secretary of the party, Madam Afishetu said her action was borne out of the fact that she was not aware the Gender Minister's meeting was not sanctioned by the office of the Regional Chairman.

"Sir, my action or inaction was [an] act of ignorance and childishness and I was not fully aware that the meeting organised by the National Women's Organiser was not sanctioned by your office," the letter stated.
She denied allegations that she used unprintable words against the Regional Chairman and appealed to him to temper justice with mercy as it was done to him by the National Council of the party.

"I have never in my life gone on air to denigrate you or make comments that would insult your person as alleged. I know at the National Council meeting, the committee tempered justice with mercy by forgiving those involved in this case. Sir, it is the same mercy that I am seeking from you as my regional chairman," she pleaded. "I have promised to be of good behavior and never to repeat such unfortunate misconduct."