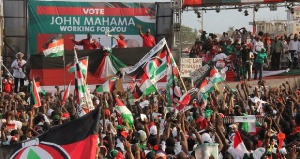 A private legal practitioner, Kwame Adofo says he is at a loss as to why residents continue to vote for the ruling National Democratic Congress (NDC) when they have been neglected in terms of development.
"I have been wondering why Voltarians still vote for NDC because they have done nothing in that region to merit their votes", he claimed.

According to him, the Volta region is worst under the current NDC government compared to successive ones indicating that the party is rotten to the core urging residents to change their pattern of voting when they go to the polls on December 7.unity-walk-banner2

He claims that major roads within the Ho township which is supposed to be the Volta regional capital, are in a very in a deplorable state yet the NDC continually ride on the fact that the place is their stronghold.

"It has not done anything and they still vote for them. NDC is rotten to the core and will lose the 2016 elections and they know that", he added.
Mr. William Awuku Ahiadomey who was a co panelist on the Ultimate Breakfast Show hosted by Lantam Papanko, disagreed with the assertion of the Lawyer Kwame Adofo indicating that Voltarians are better off under an NDC government than the NPP.

He concurred with claims by President John Dramani Mahama that a cabal in the media keeps blocking his transformational agenda messages stating that they could be doing so because the president may have refused to dole out huge sums of money to them as seen under the erstwhile Kufuor regime.

"Kufuor paid some media persons to do the bidding of government under the guise of consultancy fee of about $6m. NDC government won't do such things even though some media persons have decided to gang up against him", he added.