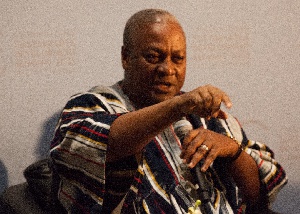 Former President John Dramani Mahama has launched a blistering attack on the New Patriotic Party (NPP) government for implementing the double track system under the free Senior High School (SHS) policy.
He said the policy, which many educationists have described as game-changer in the education sector, does not make sense.

The former president has now vowed to scrap the entire double track system when the NDC comes back to power in 2020.

"We will abolish the current shift (double track) system, reintroduce the more efficient three-term per academic year programme, and bring back the emphasis on skills training, technical and vocational education to provide students with more options, as they go forward with their choices in diverse career and aptitude paths," Mr. Mahama, who is seeking to lead the NDC once again after his humiliating defeat in 2016, posted on Facebook.

Two Semesters

The double-track system, which is similar to the two-semester system run by tertiary institutions, was introduced due to the implementation of the free SHS policy by the Akufo-Addo administration, which has significantly increased enrolment at the secondary level.
It seeks to ease congestion in public senior high schools once and for all.

Addressing NDC supporters in Cape Coast last Friday, Mr. Mahama suggested that President Akufo-Addo and his government did not think through the double track system before implementing it, despite all the contingency plans put in place by the government to ensure the smooth running of the programme.

"I believe that if Ghanaians come together we can come out with a workable timetable and schedule for implementing free SHS, because the double track system is not understandable," he fired during the campaign trail.

"We just finished vacation, children have been at home for almost three months, it's time to go to school and you say they should stay back home for another 41 days and let their friends go so they can also go after that time. It doesn't make sense and that is because our friends don't listen to advice," he said.


He took his 'anti-free SHS' agenda to

Facebook, saying that "we will also implement a crash programme to complete all the remaining abandoned Community Day Schools and construct additional ones in areas of high demand to be able to provide increased access and avoid the current congestion being experienced due to the current poor implementation of the programme."

"Education is key to our country's development. Free education is a public good, as demonstrated by my administration. Free Education Must Be implemented in a manner that is sustainable and does not compromise quality. A new NDC government will improve the free SHS programme and make it better," adding "NDC will improve learning outcomes, teaching, teacher development and supervision across all schools."

He said "a National Stakeholders Conference will be organised to bring together headmasters, parents, teachers, educationists, labour, politicians, traditional leaders, religious groups, CSOs, students and others to further review and chart a sustainable course for the implementation of free education for our children and country."

Free SHS Aversion
Mr. Mahama has not hidden his hatred for the entire free SHS policy, and when he was in office he spent huge amounts of money to discredit then opposition leader Nana Akufo-Addo for proposing the policy.

He said that if the NDC returns to power in 2020 with him in the lead, his government would ensure a review of the whole free SHS programme.

He did not suggest how he would implement it to bring about the so-called 'quality of education' he keeps talking about.

"I believe that if Ghanaians come together we can come out with a workable timetable and schedule for implementing free SHS, because the double track system is not understandable. We have talked about this national stakeholders' conference for so long but they have refused to hold it."

Tarkwa Sermon
Last November at an NDC Unity Walk in Tarkwa in the Western Region, Mr. Mahama said it was not 'by force' for President Akufo-Addo to implement the free SHS policy.

"Why should the government introduce free education now when the Constitution says it should be done progressively? In fact, it's not by force to introduce free SHS now," he quizzed.

The NDC has always maintained that it would take the next 20 years for free SHS policy to be implemented.

After realizing the political implications of his statement in Tarkwa, Mr. Mahama posted on Facebook that "there are no 'naysayers' when it comes to free SHS. After all it was recognized and enshrined in our constitution by the ordinary people of this nation who gathered at the Consultative Assembly and drew up the 1992 Constitution."