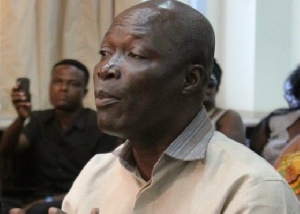 Member of Parliament for Odododiodio Constituency Nii Lante Vanderpuye says he will step aside for aspiring New Patriotic Party candidate Nii Lante Bannerman if the NPP aspirant is able to get over 35% of votes during the 2016 elections.
One of the election flashpoints in Accra, Odododiodio Constituency erupted into violence Friday evening when supporters of National Democratic Congress (NDC) and the New Patriotic Party(NPP) clashed at a 3FM parliamentary debate.

The supporters had gathered at the Bukom Square to cheer on their respective candidates who were taking part in the debate when tempers flared. Candidate for the NDC Nii Lante Vanderpuye, who is also a minister of state, and NPP's Nii Lante Bannerman were ushered to the event grounds by hundreds of their faithfuls with chants.

Speaking to TV3, Mr Vanderpuye accused the NPP candidate of starting the fight and vowed to vacate his seat if Bannerman is able to get more than 35 per cent of the votes. "They did all they wanted to do but at the end of the day they know they will never win the elections".
Asked why he had concluded on Bannerman's fate in the elections, the Youth and Sports Minister replied that he is ready to step aside for his opponent if he registers more than 35 per cent of the votes. "If Bannerman is to get more than 35% of the votes, I will give it to him," he said.

"We have not started yet and if this is the way they want to start it then we are determined to have free peaceful elections and make sure we win conclusively.

"They can decide to come to every programme with machetes, bottles and stones and we know we have elections to win and we will win. "I want to assure him that Nii Lante Vanderpuye is not a coward and if he thinks he's a man and calls me a coward then he should meet me one-on-one".