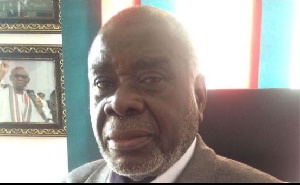 The running mate of the Convention People's Party (CPP) Nana Gabby Nsiah Nketiah has disclosed that he is a member of the NPP.
According to him, he is a good standing member of the elephant family with a party card.

Gabby Nketiah, a retired diplomat, was announced running mate to the CPP flagbearer Ivor Greenstreet a fortnight ago.

The former Ghana's ambassador to Korea told GHone Television that he sees nothing wrong with still being a member of the biggest opposition party.
"Yes, I am a card bearing member of the NPP, I have not denounced my card-bearership to my party yet. The thing has just begun, this is not new.

"Few years ago some NPP leaders including myself and former President Kufuor went to the house of the late Mr. Arkaah to be our running mate and he agreed to do it even though he was not a member of the NPP, so there is nothing wrong with it," he said.