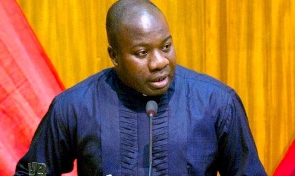 The Member of Parliament for Bawku Central, Mahama Ayariga, has said he will fight any comment suggesting that Haruna Iddrisu was removed as the leader of the minority caucus due to incompetence.
According to him, he has worked with Haruna Iddrisu for close to two decades and can attest to him being an exceptional gentleman.

He cited the leadership of the caucus, and his capacity to think on his feet and articulate the position of the party as some of the qualities that make Haruna Iddrisu exceptional.

Contributing to a discussion on the Key Points programme on Accra-based TV3 on January 28, the NDC lawmaker said Haruna Iddrisu aside from other qualities has some background in economics which hence the reason he does not subscribe to the party's chairman tone suggesting that they needed to put their best foot forward amidst the economic crisis when he spoke to the media with regard to the reshuffle.

"I seriously want to take exception to the direction in which you are going. I have worked with Haruna for close to two decades now, he is an exceptional guy. His political abilities, his organizational abilities, his leadership of the caucus, his capacity to think on his feet and articulate our position has been exceptional.

"Haruna uniquely comes from a background of having studied some economics at the foundational level, done some political science at the tertiary level and then ended up as a lawyer with some capacity to think logically and flow in the tone of training of lawyers."
He continued, "This is an exceptional person. That is why anytime I am told that Haruna will lead you I yield. So, any indication that he is being removed because of incompetence I will fight it. If you give any indication that you are removing Haruna because he is incompetent, I will fight it. That is why I said I did not like the tone of Asiedu Nketia's press conference and I thought that silence would have been golden.

"Who says economists are the best spokespersons on economic matters and who says that they must lead in order to articulate economics position fluently and well. You can say anything but never in my face trying to question the competence and the ability of Haruna Iddrisu," Mahama Ayariga added.

The NDC leadership has appointed the former Deputy Minister of Finance, Dr. Cassiel Ato Forson, as the minority leader in the 8th Parliament of Ghana's Fourth Republic. He replaced the MP for Tamale South, Haruna Iddrisu.

According to the NDC, Kofi Armah Buah, MP for Ellembele, will take over as the Deputy Minority Leader.

While Kwame Governs Agbodza, MP for Adaklu, he will replace Asawase MP Muntaka Mohammed as the Chief Whip.
Ahmed Ibrahim, MP for Banda, has been maintained as the First Deputy Minority Whip, while Comfort Doyo Cudjoe-Ghansah, MP for Ada, is the Second Deputy Minority Whip.

This was contained in a letter to the Speaker of Parliament, Alban Bagbin, from the National Democratic Congress, dated January 23, 2023.

NYA/MA