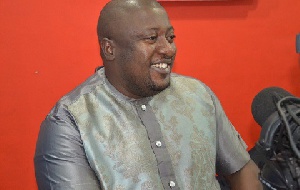 Ashanti Regional Youth Organiser of the opposition National Democratic Congress (NDC) Brogya Genfi has lashed out at the Akufo-Addo's government for failing to walk the talk as he promised Ghanaians during the 2016 elections.
He wondered why the government is not working towards improving the lives of the citizenry of whom majority wallow in abject poverty and diseases.

The President Nana Addo Dankwa Akufo-Addo since his assumption of office has been going on official duties in other parts of the world including Monrovia, London, Belgium among others.

Mr Genfi accused the President of wasting State money in Belgium with elephant-sized entourage which could have be invested in other areas to improve the lot of Ghanaians.
He bemoaned foreign travels by the President and his entourage which are draining the country's resources.

He wrote on his Facebook page 'It's been 7 months of talk without action, and all he is interested in is a 'photo shoot' opportunity with the Queen of England. Is Ghana going back to be a colony of the British?. The foreign travels are draining our resources, Mr.President. What could be more embarrassing to a country of our stature than our inability to pay for car rentals and hotel bills of our President and his elephant-size entourage in Belgium? very embarrassing!'.