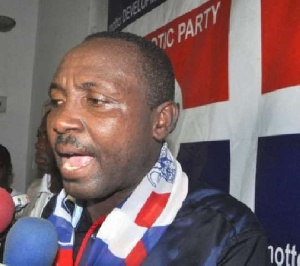 The opposition New Patriotic Party has accused President John Mahama of campaigning with state resources.
According to the Party, the President is sharing items branded with his image, under the guise of doing government business.

The accusation by the NPP comes on the back of a report by the CDD indicting both the ruling NDC and the NPP of vote buying ahead of the December 7, polls.

Speaking to Nii Arday Clegg on the Morning Starr Monday, the general secretary of the NPP John Boadu said the NDC is abusing incumbency with their campaign strategy.

"Maybe we should have regulations on how a party in power use state resources for campaign purposes. In 2012 we spent about GHC4 billion in excess of budgeted resource. We're having pictures of the NDC and the President on items being donated and they say it's normal? Well, we all know this is wrong and I don't think that anyone should seek to justify it. How should monies supposed to be used for our collective interest be used to advance the cause of one person?
"Why should outboard motors being presented in the name of the state have images of the President on them; and suddenly the first ladies NGO has so much resources to be donating items all over the place. I see everything wrong with a president's wife, all of a sudden, sharing things all over the place," he bemoaned.

But responding to the claims, the campaign coordinator for the NDC, Kofi Adams, said the allegations by the NPP are baseless.

"I don't see anything wrong in putting the president's effigy on outboard motors. The president will combine campaigning and government business at the same time. Are we saying government business should come to a standstill because we're going into elections?" Adams enquired.