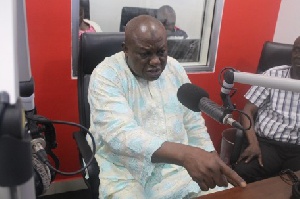 Editor of the Al-Hajj newspaper and a member of the ruling National Democratic Congress (NDC), Alhaji Iddrisu Bature has said the sitting President who is also the 2016 flagbearer for the NDC is not afraid of losing the upcoming elections.
According to him, President Mahama is not desperate to be in power as the leader of the largest opposition party.

"What perturbs my heart is that the leader of the New Patriotic Party [NPP], Nana Addo Dankwah Akufo-Addo is pretending to be who he is not just to be in power," he said.

He cautioned citizens who have made up their minds to vote for Nana Addo to wait and see the other violent side of him which would rule the state when he becomes President because the one in use now is a direct opposite of who he actually is.

Speaking on UTV's 'Adekye Nsroma' show, Alhaji Bature asserted that he is not disputing the fact that this country has for the past eight years not been engulfed with hardship, but believes it would end during NDC's next administration.
The NDC sympathiser further explained, "All Nana Addo can do for this nation is to kerb the indiscipline proceed in our society which he is very good at doing, and aside that cannot embark on any other decisive project."

NPP Member of Parliament [MP] for Okaikoi Central Constituency, Hon. Patrick Yaw Boamah his co-panelist responded, "I am glad for once that at least you have seen one positive act in Nana Addo which is most needed in this country and it would be based on this that he would be our president after 7th December."

"Nana Akufo-Addo is not making his party attractive even though he has the chance of becoming the president of this land as I made mentioned to him in 2012," Bature told Lawyer Tweneboah Koduah.