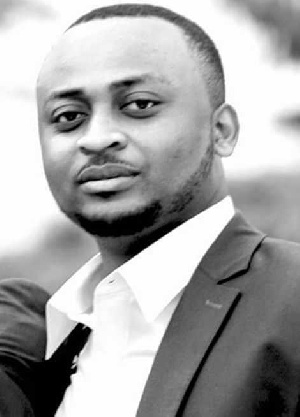 What the opposition National Democratic Congress (NDC) party did while in power, which was condemned by many well-meaning Ghanaians, is gradually finding its ways into the ruling New Patriotic Party (NPP) government, Today can report.
Sheer arrogance and show of power are now the traits of many of the appointees of the Akufo-Addo-led government.

But interestingly, the same appointees who today want ordinary Ghanaians to worship them barely two years ago when they were in opposition had the effrontery to complain about the attitude of the appointees of former President John Dramani Mahama, for always being disrespectful to Ghanaians.

The Head of Public Relations (PRO) Unit of the Ministry of Education (MoE), Ekow Vincent Assafua, is one of the Akufo-Addo's appointees who has no respect for anybody including journalists who are to inform public about government polices and programmes.

In an unprovocative manner Mr Assafua lost control of his temper when a producer from Accra-based Amansan Television (ATV), Isaac Oteng, yesterday called him into a programme on his mobile phone to explain more on the senior high school (SHS) double-track system which the NPP government has introduced to deal with the challenges of the Free SHS policy.

"You (referring to the ATV producer) are stupid!" That was his response to the telephone call immediately the producer identified himself that he works with ATV.


According to the host of "Anopa Bosuo" a flagship programme of ATV, Nana Yaw Fianko, he had earlier made several attempts through same telephone calls and text messages to get the PRO of ministry of education to afford him the chance to speak on the SHS double-track system on his programmne, but to no avail.

"It has been one excuse or the other anytime I call. And as for text messages, he will not even respond," Nana Fianko told Today.

According to Mr Fianko, he believes the last text message he sent to the MoE PRO might have triggered the insult on him.

The message I sent was "so why are you (Ekow Vincent Assafua) not picking my calls? For Christ sake, you are the PRO of a ministry. Would you respond if anything were said? This attitude must stop!"

Meanwhile, sixty-seven thousand three hundred and eighty two (67,382) students who have qualified to senior high schools (SHS) could not be placed under the computerised school selection placement system (CSSPS).


This is because they could not be matched with any of their school choices.

They have, however, been asked to do self-placement to get themselves into schools with vacancies, but the schools selected on self placement cannot be changed.

This was contained in a statement signed and issued by the Public Relations Director of the Ghana Education Service, Cassandra Twum Ampofo, to the media on Tuesday, September 4, 2018

It said 423,134 out of 490,514 qualified candidates have already been placed.