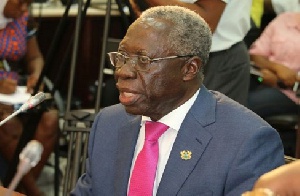 Senior Minister, Yaw Osafo Marfo has hinted that the government's Free Senior High School policy will be funded by the Heritage Fund.
The Akufo-Addo government plans to fully implement the policy from September. President Akufo-Addo over the weekend said the implementation of his much touted campaign policy was on course stating that "by free SHS, we [government] mean that in addition to tuition which is already free, there will be no admission fees, no library fees, no science centre fees, no computer lab fees, no examination fees, no utility fees, there will be free textbooks, free boarding and free meals, and day students will get a meal at school for free."

The president's announcement of the full enrollment of the policy was, however, met with stern skepticism as he did not disclose its source of funding.

The head of Economics at IMANI, Patrick Stephenson said the policy is likely to face challenges due to the country's wobbling financial status.

"I think that's been the problem to the extent that we have not seen sufficient clarity from the current government [and] is making it very difficult to appreciate what the intended objectives are," he told Accra-based Citi FM.

But speaking to Journalists on Tuesday on the sidelines of a Graphic-Stanbic breakfast forum, Mr. Marfo down-played the apprehension caused by the president's failure to disclose the source of funding for the policy.
According to him, it will be funded by the Heritage Fund and that the government is taking a critical look at the Fund to clear all the legal bottlenecks that will make it possible to be used as the main source of funding for the audacious policy.

"We are going to look at the Heritage Fund—the Heritage [Fund] implies for the future. We want to introduce…and the president mentioned it last week [Free Senior High School] and it is likely to be Funded through the Petroleum Act [Heritage Fund," he said.

That being the case the government will amend the Act to allocate some portions of the fund to the implementation of the policy, he added.

A Deputy Education Minister in the erstwhile Mahama administration said the policy is doable after scathingly condemning its feasibility during electioneering in 2012.

"It is doable if we can find the resource," he told Nii Arday Clegg, former host of Morning Starr on Monday, adding: "And that is why I was hazarding a guess that perhaps they want to make substantial savings on the construction of these new secondary schools and then channel those savings into progressively free programme."