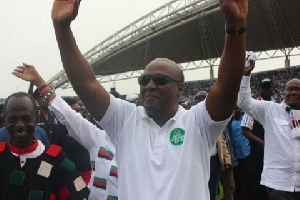 President John Dramani Mahama, Monday, mounted the podium at the Accra Sports Stadium and made a passionate appeal to Ghanaians to make him proud, come Wednesday, December 7, by voting massively to retain him in power.
"Over the last four years, I have given off my best as President of this great Republic and also candidate in the lead up to Wednesday's elections. Now the rest is in the hands of the good people of Ghana and the will of the Almighty God."

"I place my destiny in your hands and I place my destiny in the hands of God and the Ghanaian people," he noted.

President Mahama commenting further urged the people to make the right decision by voting for him and the parliamentary candidates of the umbrella family, noting that the task ahead is so challenging that it needs someone with a proven track record to continue governing the country and not someone with just oral assurances.
"The choice we face in this election is simple – to stay the course and forge on with determination and consolidate all the gains that we have made over the last four years or to give up and begin again on another course of which we have no guarantees of success but just the oral assurances of a small group of people. These are the two choices we face in the election on Wednesday and it is for Ghanaians to make a determination which of the two they will chose," he noted.

He added "It must not be said that we cannot pursue a task to its logical end because we are lured by the unanchored promises of change. We will be like a flattening flag that changes direction with every shift of the wind."