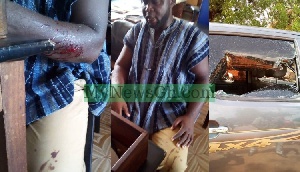 Northern Regional Secretary of the opposition National Democratic Congress (NDC), Salisu Be-Awuribe has been beaten to pulp by members of a vigilante group of the party, MyNewsGh.com can report.
The NDC executive has, as a result, sustained severe wounds and had windshield of his vehicle smashed by the hoodlums who it is gathered are averse to his style of managing the secretariat of the party.

According to our sources, the matter has been reported to the Northern Regional Police Command while the former District Chief Executive (DCE) for Central Gonja was issued with a medical to seek attention at the Tamale Teaching Hospital.

It would be recalled that MyNewsGh.com reported earlier today that NDC vigilante group in Tamale, the Al Qaida, attacked some executives of the party who were holding a "secret" meeting at a hotel in the Northern Regional capital.

The meeting was to be chaired by the party's Regional Secretary, who is said to have fallen out with the Regional chairman since their elections months ago.

Division among the executives has grown the damaging relationship between the chairman and secretary, resulting in the establishment of camps. The confusion occurred when the chairman allegedly appointed members of his own secretariat which appears to have the similar roles as some of the elected executives.
Since then there have mixed communications coming out from the regional office of the party resulting in the divisions between the chairman and secretary.

The Al-Qaeda group organizer confirmed the Saturday attack and said the chairman did not endorse the meeting and that as chairman of the party, no meeting would be allowed to happen without his permission.

"The secretary and his people are disturbing the chairman too much. The chairman told them the meeting cannot happen but they refused. They have been having secret meetings behind the chairman so just this morning, we heard that they were going a secret meeting again, unfortunately the chairman them they should not hold that but they told the chairman that, nobody can stop the meeting; so they went to the Global Dream Hotel to the meeting again but unfortunately something happen again…we went and sack them".

The organizer said the secretary was not present when they attacked the meeting and warned to stop any meeting of the party that would be held without the consent of the chairman.