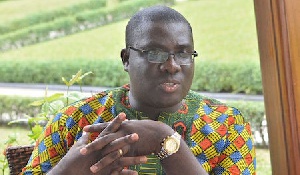 National Youth Organizer of the governing New Patriotic Party (NPP) Sammy Awuku believes the opposition National Democratic Congress (NDC) will cancel the Free Senior High School policy introduced by the Akufo-Addo led-government if Ghanaians make the sad mistake of voting the party into power in 2020.
According to him, the NDC's consistent baseless criticism of the Free SHS policy which he's convinced is being done out of sour grapes, gives a hint that the policy will end anytime the NDCis voted into power.

The NDC has raised several issues about the NPP's much talked about flagship programmes questioning its sustainability.

The NDC Minority in Parliament at a press conference on Monday September 11, 2017 addressed by its Leader, Haruna Iddrisu, also warned that the "the piecemeal approach" to the implementation of the programme will compromise its quality.

But Sammy Awuku speaking on Peace FM Tuesday stated that the NDC attempt to bastardize the Free SHS policy is most unfortunate and must be condemned by all right thinking members of the public.
"In 2012, when we appealed to Ghanaians to vote us into power to roll out the Free SHS policy, the NDC launched 36 different adverts against the Free SHS programme including the one they edited Pastor Mensah Otabil's voice. What the NDC is doing now is dangerous; I'm convinced that electing NDC into power in 2020 will see the cancelation of the Free SHS policy.

"The likes of Lee Ocran, NDC former Vice Chairman and also a former Minister of Education stated publicly that it will take 20 years for the Free SHS policy to be rolled out in Ghana; here we are with the NPP taking just 8 months in power to commence the programme. For me, the NDC position on Free SHS is dangerous, for the Minority Leader Haruna Iddrisu to have said to a teeming crowd in Tamale that the NDC will fiercely resist its implementation is most unfortunate," he noted.