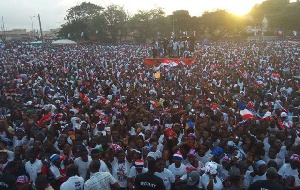 All three aspirants contesting in the New Patriotic Party's parliamentary primaries in the Yendi Constituency have promised to stay united regardless of who emerges winner.
According to them, the prospects of the party supersedes their individual interests.

The Yendi Constituency is one of the largest constituencies in the Northern Region.

It has produced more NPP Members of Parliament since 1992, making it a traditional NPP seat.

It is the home constituency of the first Muslim Vice President of Ghana, Alhaji Aliu Mahama, of blessed memory.

In the 2016 elections, the NPP candidate and incumbent MP Alhaji Habib Tijani polled 27,188 votes to beat National Democratic Congress' Yahaya Hamza Akali, who polled 23,964 votes.
But Mr. Habib Tijani has declared that he will not seek re-election.

This paved way for three aspirants – Alhaji Farouk Aliu Mahama, son of Ghana's first Muslim Vice President, Alhaji Baba Daney, a civil servant at the Northern Regional Coordinating Council, and Hajia Abibata Mahama, a deputy Masloc CEO – to contest for the party's ticket.

At his residence in Yendi, Alhaji Farouk Aliu Mahama told 3news.com that his livelihood empowerment support programmes in the constituency alone will win him the primaries.

He disclosed that he has an overwhelming endorsement from delegates.

3news.com then visited the only female in the contest, Hajia Abibata Mahama.
She told us her chances of winning are high, indicating that it has always been her passion to be an MP so as to widen her scope of development.

She called on her supporters to disregard comments on social media tagging her as a prostitute.

As at the time of visit, Baba Daney was out of the constituency but his supporters were on a campaign trail.

They are optimistic he will win the elections because he is the only home grown man.

The NPP Constituency Chairman for Yendi, Alhaji Abubakari Sadiqque Nam, explained that the constituency is peaceful.
He gave the assurance the elections will be peaceful on Saturday, June 20.

He called for unity before and after the primaries.

"I have told them we need everyone on board and thank God they have all given their word to remain united which I think is manifesting in their campaigns," he stated.