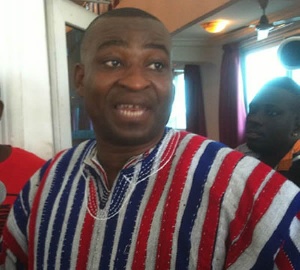 Wed, 4 Apr 2018 Source: Daniel Kaku
The campaign manager for Ashanti Regional Chairman of the New Patriotic Party (NPP), Razak Kojo Opoku, has stated that his boss, Mr Bernard Antwi Boasiako also known as Wontumi, has no competitor in the party's' upcoming regional elections.
The much anticipated regional polls is expected to take place from April 21st to 24th of this year.

On Monday, April 2, 2018, there were reports that Mr. Asare-Bediako, former Asokwa Constituency Chairman, who is also contesting alongside Wontumi, had stepped won allowing Wontumi to go unopposed.

Mr. Asare-Bediako however has denied these claims and has urged all his supporters to remain confident in him since he has no intention of quitting the contest.

He maintained his resistance to step down from the race despite the increased pressure being mounted on him by some party bigwigs.

In an interview on Accra FM, Tuesday, he said, "I am still in the competition, I won't step down for anybody to go unopposed. Nobody can also thwart my ambition to become the Chairman for the party in the region."

Barring any last-minute change in decision, Mr Asare-Bediako will be facing off with incumbent Chairman Wontumi, who has been a long-serving constituency chairman for the NPP in Asokwa.
Razak Kojo Opoku has however indicated that whether Mr. Asare Bediako steps down or not, Chairman Wontumi has a high chance of winning, saying, "There is no competitor to Chairman Wontumi".

He described Chairman Wontumi as a Governor-General for the NPP party in the Region.

Below is the full statement

There is no competitor to Chairman Wontumi

I just want to ask this harmless question:

1. Which Office will those seeking Regional Chairmanship operate from when in an unlikely event they become the Ashanti Regional Chairman of the Party? Will that unlikely Chairman use the Regional Office rented by Chairman Wontumi? ????????????.
I am passionately appealing to them to continue the Chairmanship contest with Chairman Wontumi.

Competition is good in democracy but will a Wiseman waste his resources, time and energy in pursuit of an impossible political journey?

Can Odikro overthrow an Overlord of a Kingdom? The answer is Big No.

Chairman Wontumi is the Overlord and his competitors belong to the class of Odikro under his Kingdom.

Chairman Wontumi forever remains the Governor- General.
Source: Daniel Kaku