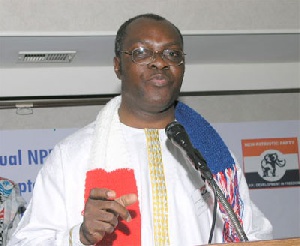 Fri, 11 Sep 2015 Source: peacefmonline
In attempts to find lasting solutions to the internal wrangling which has taken center stage in the opposition New Patriotic Party (NPP), a founding member of the party, Dr. Kobina Arthur Kennedy sees part of the solution rests with the party's Council of Elders.
According to him, the way the party's Council of Elders handled the planned impeachment of Chief Scribe, Kwabena Agyepong and the National Chair Paul Afoko prolonged every effort to resolve the infighting.

Speaking on Okay Fm's Ade Akye Abia Morning Show, the NPP's 2008 Communications Director said there is no more Council of Elders in NPP because of the way they have conducted themselves by taking sides.

"NPP Council of Elders have ceased to exist because of the way they have conducted themselves except few individuals who are helping to bring peace to the party; they should start behaving like council of elders."
"The Council of Elders should stop being appendage to Nana Akufo-Addo and start being Council of Elders of NPP; without asking Afoko and Agyepong to defend themselves of the accusations against them, they wrote a letter which was seen being circulated on social media that they should step down," he fumed.

He maintained that this singular act by the party's Council of Elders has made it difficult for peace to finally prevail in the party; stressing that until they (Council of Elders) continue in such manner, the unity the NPP yearns for will be impossible before the 2016 elections.
Source: peacefmonline