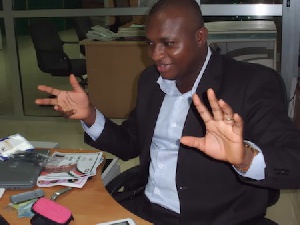 The ruling National Democratic Congress (NDC) Parliamentary Candidate for Suame in the Ashanti Region, Brogya Genfi, has charged the opposition New Patriotic Party (NPP) to suspend its former General Secretary Nana Ohene Ntow for misconduct.
Mr. Genfi described Ohene Ntow's radio and television discourse as unsavoury, which must not be tolerated by the party.

He suggested that the Disciplinary Committee of the party should invite Nana Ohene Ntow for alleging that Freddy Blay and Treasurer Abankwa Yeboah illegally operated a party account.

He claimed that the NPP has suspended wrong people, suggesting that the former General Secretary of the NPP be punished.

'The NPP have suspended wrong members of the party, Nana Ohene Ntow must be suspended, considering the charges upon which the executives of the party were suspended, I think he should have been suspended long ago,' he said.

The largest opposition party recently suspended its National Chairman Paul Afoko, General Secretary Kwabena Agyepong and its 2nd Vice Chairman Sammy Crabbe for misconduct deemed unfit.

He observed that the NPP has warned its executives and members to desist from commenting on party issues which is being battled out in court.
Mr. Genfi said Kwabena Agyepong was suspended because he did not refer legal matters to the legal team of the party, is his conduct different from that of the Acting National Chairman, Freddy Blay, who refused to refer legal matters to the legal team,' he asked.

According to him, the legal team of the party has been dormant over the years, enumerating that Ayikoi Otoo and the rest have not been utilised.

He recalled that when the NPP filed a suit against the Electoral Commission (EC), President Mahama and NDC over the 2012 general election results, the party's legal team was sidelined.

'Obiri Boahen is not part of the NPP's legal team but he represented Freddy Blay in court when Afoko filed a suit against Freddy Blay; Agyepong committed this same offence and was punished but Freddy Blay and Obiri Boahen have not been suspended, favouritism has shown its ugly head in the NPP,' he said.

Speaking on Nhyira FM, Mr.Genfi expressed worry over the disunity due to the internal wrangling in the party.

'After loudly ranting on radio he now claims he is sick that is why he could not go to the party's extraordinary Congress underway in Sunyani, Brong Ahafo,' he said.