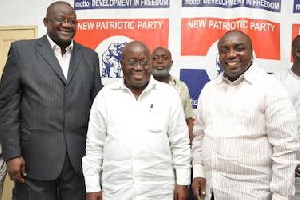 Wed, 20 Jan 2016 Source: peacefmonline
A Political Science Lecturer at the Kwame Nkrumah University of Science and Technology (KNUST), Amakye Boateng has revealed that the internal crisis in the opposition New Patriotic Party (NPP) is deeper than they envisage it.
According to him, the approach used to resolve the internal bickering by suspending some elected national executives of the party has rather angered some unsuspecting members, making them feel reluctant to go out to work for the party.

He based his point on the allegation that the NPP fundraising event in the Ashanti Region received low turnout; stressing it is worrying that the stronghold of the party could not pull massive people to come out to support the party.

Speaking on Okay Fm's Ade Akye Abia Morning Show, Mr. Amakye Boateng said there are so many people who are not happy with the way some leaders of the party have been suspended.
He avowed that due to the internal wrangling in the NPP, the popularity of the 2016 Flagbearer, Nana Akufo-Addo is going down as the way people used to troop outside to watch the leader pass is not the same as today.

"The NPP has not taken time to resolve their internal problem well and that is a factor weighing the party down. In a democracy, you go in for consensus and compromising especially for a political party preparing for power in 2016 and not to use power to resolve internal issues. The way they chose to resolve the problem is affecting the party," he asserted.

He stressed that the low turnout at the weekend event of the NPP to raise funds to support the party has given room to speculate that the crisis in the party is not over; thus, the suspension has created unsuspecting bitterness in some members of the party.
Source: peacefmonline