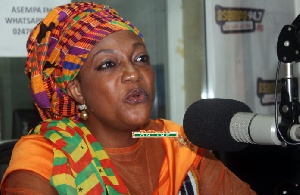 The Concern Constituency Women Organizers of the governing New Patriotic Party (NPP) in the Northern Region have implored the office of the Chief of Staff to direct the Minister of Gender, Children and Social Protection, Ms Otiko Afisa Djaba to immediately withdraw all adverts on vacancies at the School Feeding Programme until the President appoints national and regional coordinators to manage the programme.
Speaking at a press conference in Tamale on Monday, 24 July, the Bimbilla Women's Organiser and spokesperson of the Women Organisers, Iddrisu Florence Fati alleged that the absence of new national and regional coordinators to manage the affairs of the programme has created an avenue for some staff of the Ministry of Gender, Children and Social Protection to demand monies from members of the general public with a promise of securing them jobs under the programme.

The northern regional secretary of the NPP, Mr Sule Salifu, has also said he is ready to lead the campaign for the NPP women to take over the School Feeding Programme.

He said the women have laboured for the party to win the 2016 general elections and for that matter deserve to be given the opportunity to serve in the Nana Akufo-Addo government.
"I'm sure you have observed what has taken place here. The constituency women organisers and the various women groups in Tamale and the region are extremely not happy about the way they are being treated as far as the allocation of the School Feeding Programme is concerned. I'll say that the regional secretariat of the NPP is solidly behind the women organisers and the other women groups to take over the Ghana School Feeding Programme in the region and I can assure you that I will lead a forceful group to protest and to defend the interest of these women groups in the region," he stated.

"We have suffered with the women groups and so far nothing has been given to the women. Only three or four women have been appointed District Chief Executives in the Northern Region and we think that we should use the School Feeding Programme in this region and the country at large to satisfy the interest of the women. We must compensate them with real packages and I think that the School Feeding Program is one such package," he added.