Mon, 26 Feb 2018 Source: Ananpansah B Abraham
News of NPP youth hooting at the Deputy Chief of Staff, Samuel Abu Jinapor took political watchers and commentators by surprise. The reason for the action of the youth has since been rife with rumours.
The Deputy Chief of Staff was heavily booed and hooted when he made attempts to pay a call to the NPP constituency chairman-elect for Damongo to congratulate him minutes after the declaration of polls. Nana Kwame, the chairman-elect is believed to be the "darling boy" of the 2012 and 2016 parliamentary candidate of the party.

Amidst the growing speculations, it has emerged from reports and oral testimony that the action of the youth was borne out of certain comments Samuel Abu Jinapor had made at the DCE's residence.

Ahead of the polls, all delegates were moved to the residence of the District Chief Executive where they were served breakfast.

A practice most of the delegates and youth maintained was alien insofar as NPP constituency election in Damongo was concerned. Iddrisu Laminu who contested for deputy secretary had said that this was the first time such a thing was happening in the constituency. He explained that over the years, all delegates were moved to the venue of voting dawn where they are served breakfast and lunch through their zonal coordinators.

The drama started unfolding when Samuel Jinapor told delegates at the DCE's residence that he was clearly in support of the incumbent executives. He said chairman Mbemah together with all incumbent executives should be maintained. And promised to reward delegates if they work according to plan. He gave each delegate a package and promised to do more if they retained the old executives.
This pronouncement enraged the youth and some of the delegates and contestants who were on the side of Nana Kwame.

"Regional secretary has already said it, where I stand, when ask I say it...I don't discriminate...But for me, all those who were executives before we went for the election, you are those I love. You are those I support. I supported all polling station executives and God willing most of you won....And when they were conducting Electoral Area Coordinators election, I supported all 12 electoral area coordinators. Why? Because, I support current executives".

"So why is it that when it comes to constituency election, they say we should remove some and replace some. Polling station executive election, we didn't do that. Electoral Area Coordinators election, it stood same. When it comes to constituency election, they say we should remove some and replace some..."

"For my seek, I plead with you that after counting at the end of polls, chairman Mbemah should still be chairman, secretary should still be secretary, women organizer should be women organiser. Current executives with your power should still be executives," he said.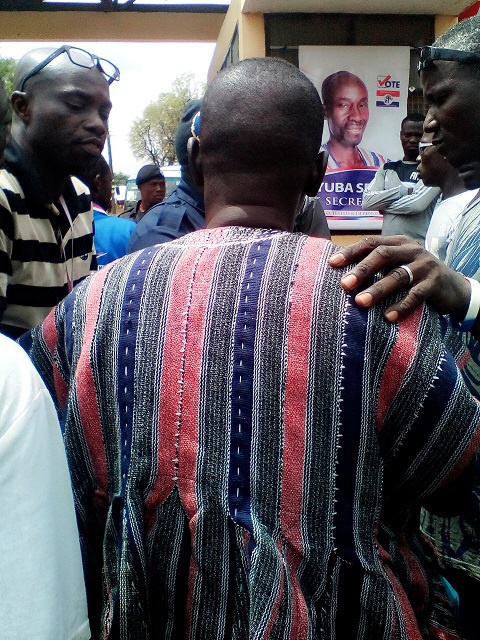 He further stated,"I cannot tell you who to vote for...But left for me, polling station executives, electoral area coordinators, constituency executives, let's maintain them...If we are going left, let's go 100%. If we are going right, let's go 100%...Today, all of you, before you go and cast your vote, I have something small for you.Chairman Mbemah and secretary will hand them over to you. But if God wills and we go for the voting, and the voting goes as we have planned, and God agrees and you agree and it goes that way, you will hear from me...Every polling station, in the next two weeks will receive a bicycle. I hear you go for funerals and weddings. I will start with a bicycle but before voting commences, every polling station will have one brand new motorbike for your work. After voting, all of us will come back here. I have dedicated a cow in the custody of chairman.... After the vote, we will be back here..."

Luck however eluded the Deputy Chief of Staff when his preferred candidate for the chairmanship position failed to make it at the end of polls. In what can be described as an attempt to make amends with the youth chairman, Nana Kwame, he paid a call to him at his residence to congratulate him but was met with the heavy presence of the youth who were celebrating the victory. The unpleasant result was the hooting down of the deputy chief of staff.

The aggrieved youth had initially attempted denying him access to the voting grounds under the guise that he was not a registered voter in the constituency. It took the timely intervention of the security details at the gate for him to make his way through.

The NPP constituency election was sharply divided along two lines. The side of Winifred Mbemah was highly favoured by the Deputy Chief of Staff. Nana Kwame and his "battalions were however believed to be on the side of the 2012 and 2016 parliamentary candidate of the party, Albert Diwura Kassimu.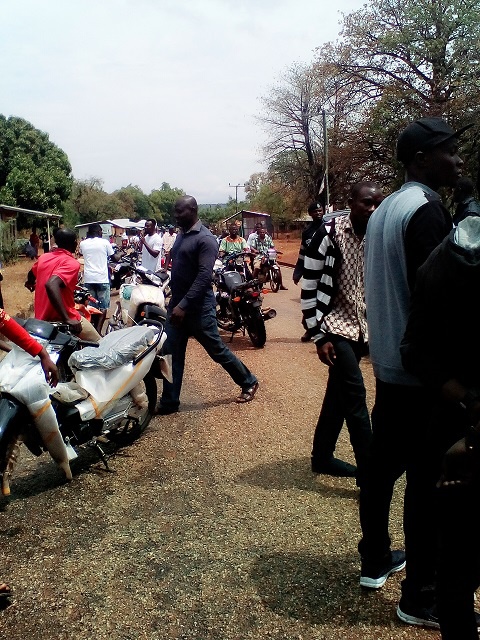 Source: Ananpansah B Abraham