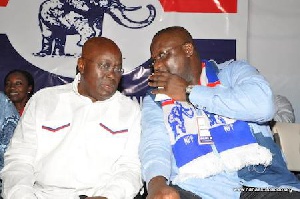 Good friends turn enemies? – Yes – the friendship between NPP flagbearer Nana Addo Dankwa Akufo-Addo and suspended Chairman Paul Afoko has hit the rocks in both political and social life.
Mr. Paul Afoko, who has been suspended by the NPP as its National Chairman, has publicly confessed that his friendship with Nana Addo has ended.

Perhaps this is after his acclaimed 'unconstitutional' suspension by the party leadership last year.
Speaking on UTV's 'Adekye Nsroma' programme, Mr Afoko said he has stopped visiting his old friend, Nana Addo – "I don't go to his house anymore. What am I going to do there?"

"We are not friends, I don't call him," he added.