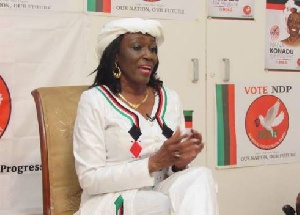 The Electoral Commission (EC) of Ghana has cleared the flagbearer of the National Democratic Party (NDP) Nana Konadu Agyeman Rawlings to contest the December polls.
The Chairperson of the Electoral Commission, Mrs Charlotte Osei making the announcement Wednesday stated that some candidates were once again disqualified for failure to meet the number of subscribers as required by law.

However, the former First Lady made it onto the list for the December polls.

This brings to six the number of parties cleared to contest the December polls. They include the NPP, NDC, CPP, PPP, NDP, PNC and Independent Candidate Jacob Osei Yeboah.
In a statement signed by the NDP´s General Secretary, Mohammed Frimpong urged all party supporters and Ghanaians at large to act to ensure that the Electoral Commission never turned into a closed-door autocratic institution in Ghana.

Attached is NDP's full statement announcing Nana Konadu´s presence on the ballot paper