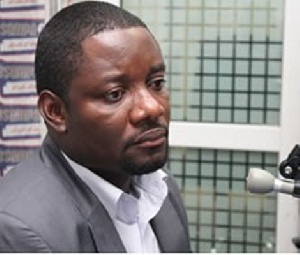 NDC Deputy Communications Director, Fred Agbenyo has dismissed reports that the Akufo-Addo government is successfully rolling out the implementation of their free SHS policy.
The free SHS policy, which has ensured that students benefit from free education in the country; comes as a relief to Ghanaians.

The policy formed a major part of the campaign promises of the governing New Patriotic Party.

The policy which began in September this year has been warmly welcomed by Ghanaians who continue to praise the government for fulfilling its promise.

Commenting on the policy on Peace FM's Kokrokoo, Fred Agbenyo stressed that there are several challenges with the policy and so the government should not pat itself on the back for kick-starting the programme.

According to him, instead of President Akufo-Addo and his government prancing in joy, they should rather admit to the challenges in order to create "credibility for politicians" in the country.

Fred Agbenyo noted that the government has deceived Ghanaians into thinking that they have made education free in the country.
He said "parents will still have to incur some cost. So, that must be made clear…How do you call it free? It's progressive".

Listing some challenges fraught with the free SHS programme, he indicated that parents of students in some schools in the Volta Region, will have to cough up monies to "buy one metal trunk. You'll buy one chop box.

You'll buy one student size mattress. You will buy one pillow and one electric iron…one blanket, one cover cloth, two sets of night gowns. You'll buy pyjamas, umbrella, rain coat, handkerchiefs, sets of black sandals, white canvass, cutlery" and so forth as their children go to the Senior High School.