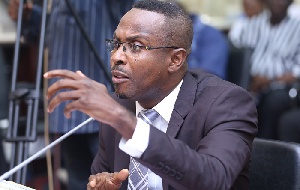 The Central Regional Minister, Kwamena Duncan has expressed worry that people are making fruitless criticisms concerning the implementation of the free Senior High School (SHS) policy which was received by parents and students.
He said government would not be disrupted by the unfounded criticisms, but would rather pursue it to ensure that students benefitted tremendously.

The Minister expressed this when he addressed the durbar of Chiefs and the People of Agona Nsaba Traditional Area to climax their Annual Akwambo festival at Nsaba in the Agona East District.

The theme for the celebration of the festival was " celebrating the heritage in unity with purpose.' come let use build a social centre for the community".

He called on the Ghanaians to rally behind the success of the policy rather than predicting doom for its collapse and no amount of disturbances from the opposition members would stop the government from its onwards march.

He said the government under President Nana Akufo-Addo would ensure equitable distribution of the national cake and assured that Chiefs and the people of Agona Nsaba that all promises made to them during the 2016 election campaign would be honored by the government.

Mr Dennis Armah-Frempong, Agona East District Chief Executive (DCE) said the assembly had embarked on a lot of activities to reshape all feeder roads, extend electricity, provide streetlights and extend school feeding programme to cover more schools in the district.
He said the revenue generation of the Agona East District was not encouraging and appealed to the people to pay their taxes to help the assembly to undertake more development projects.

He cautioned the youth to refrain from drug abuse, cybercrime, teenage pregnancy and called on the chiefs, opinion leaders and other stakeholders to help find lasting solutions to those problems,

Professor Kwesi Yankah, Minister in charge of Tertiary education assured the chiefs and people of Nsaba Traditional Area of the government's preparedness to ensure total development of the area adding that the Nsaba Traditional Area was a signatory to the bond of 1844 treaty in the colonial period and yet were grappling with a lot of developmental programmes.

Prof Yankah said it was sad to note that the Central region was among the four poorest regions and stated that government was poised to address the free SHS challenges and called for their support to promote socio-economic development.

Osabarima Bishop Boa Appiah Afriyie, Omanhene of Nsaba Traditional Area appealed to the government and Agona East District Assembly to help upgrade the Nsaba Health Centre into a district Hospital and called on government to reconstruct the Agona Swedru-Akim Oda-Nsaba trunk road to facilitate easy transportation of goods and services.

The Omanhene asked the citizens home and abroad to come home and contribute their quota towards the development of the town, adding that chiefs and residents at home alone could not champion the course of enhancing quality life of the people.