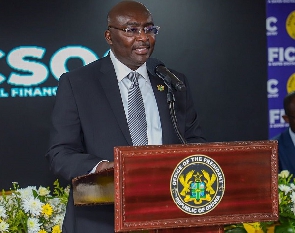 Wed, 7 Jun 2023 Source: GNA
The New Patriotic Party (NPP), Sunyani East Constituency has condemned allegations against Vice President Alhaji Dr. Mahamudu Bawumia, implicating him in the tribal clashes between the Gonjas and the Mamprusis in Northern Region.
"The Party in the Constituency has taken note of a viral video purported to have emanated from the Gonja youth trying to implicate the Vice President in the unfortunate situation between the Gonjas and the Mamprusis."

"In fact, the false, cheap, and vile accusations against the Vice-President are not only a fixated lie but a complete affront to logic and common sense. Nothing can jeopardize the Vice President's vision of leading this country into the promised land," the party said in a statement issued in Sunyani.

A copy of the statement made available to the Ghana News Agency (GNA) explained that "the truth must be told, the last thing Alhaji Dr. Bawumia who is a devout Muslim would do is to see the loss of innocent lives."
"The Vice President has been preaching unity of purpose between religious groups, tribes, and others, as enjoined by the Holy Books of the Bible and the Quran. It is therefore contrived, bizarre, and insulting for the youth to connect the Vice President to this unfortunate situation," it added.

"In fact, the engineers of this palpable lie must bow their heads in shame because their ploy to make the Vice President unpopular has failed on arrival," the statement concluded.
Source: GNA