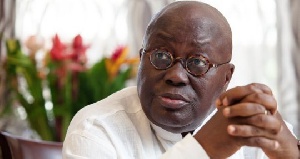 Thu, 1 Oct 2015 Source: The Republic
A Strength Opportunity Weaknesses and Threat (SWOT) analysis conducted by the flagbearer of the opposition New Patriotic Party (NPP), Nana Akufo-Addo has pointed out ex-President Kufuor as the biggest threat to Akufo-Addo's 2016 presidential ambition through his "behind-the-scenes maneuvers and the deployment of surrogates" to hinder Akufo-Addo's efforts.
In the research conducted by a local security and private investigation company, ex-President Kufuor is to be treated with extreme caution because "any effort to overtly attack him will not be well received by floating voters and may adversely affect NADAA's chances in the general elections," the Republic Newspaper gathered.

The Republic Newspaper has gathered from reliable sources that the security company contracted to do this SWOT analysis had earlier been contracted by Nana Akufo-Addo to allegedly track the movements of some individuals in the opposition party whom he suspects to be acting to scuttle his chances at the Presidency.

In a report dated August 2nd, 2014 and presented to Akufo-Addo, the company advised him to adopt a "Shock and Awe" strategy for his campaign; starting from the presidential primaries in October 2014 where he contested against the likes of Alan Kwadwo Kyeremanteng, Stephen Asamoah Boateng, Addai Nimo, Joe Ghartey and Kofi Konadu Apraku. The recommendation was for Akufo-Addo to do everything to win that flagbearership race resoundingly.

In the private eye's view, it was absolutely imperative to attain a figure within the range of 87% and 97% "because failure to do so will prompt suggestions from the NDC that NADAA failed to achieve the kind of margin that Mills (96.3%) and John Mahama (99,5%) obtained in their respective flag bearer contests and, therefore, lacks the same popularity that those two enjoyed in their party".

Akufo-Addo went ahead to win the election resoundingly by over 97% but according to the report, the real challenge would be for Akufo-Addo to strategically manage the internal fallouts that will follow his third-time victory for the flagbearership of the party. His main responsibility would be to effectively counter the potential threats posed by ex-President Kufuor.

The Republic Newspaper has intercepted snippets of the alleged SWOT analysis done for Akufo-Addo's campaign team.
In relation to ex-President Kufuor's threats, it reads in part "The other threat that Kufuor poses is his capacity to dissuade major foreign governments from extending support to NADAA [Akufo-Addo] in the run-up to 2016. It is most likely that he will be spoken to by these governments and other notable international bodies as a way of cross checking or verifying information about NADAAs prospects in 2016 before any potential support for his bid. This requires a delicate operation to isolate him within the party while maintaining a semblance of respect and honour for him in the public domain. Kufuor is the mastermind of the strategy to get many surrogates to enter the flagbearership contest. Stephen Asamoah Boateng, Addai Nimo, Joe Ghartey and Konadu Apraku were all planted in the race by him.

"The objective for this move is, however, different but much related to agenda 2020. Despite all that he is doing, we advise that no known NADAA close affiliate should between now and 2016 criticise or attack Kufuor publicly and this be strictly enforced. All offenders of this rule must be publicly sanctioned. Ultimately, it is political power that NADAA seeks and that effort requires some short-term sacrifices to be made even if it means dining with the devil," the report to Akufo-Addo stated.

The report went on: " All communicators and serial callers who are under our control must be advised not to attack Kufuor in the media. NADAA must seize every opportunity to publicly state his admiration and respect for Kufuor. He must speak about the work that Kufuor did for Ghana in the 8 years that he was President without being soaked and drowned in the associated corruption and 'unfaves'. He must also constantly remind Ghanaians about the enormous support and contribution he has received from Kufuor in all his Presidential bids including this one [2016 Presidential bid]."

Confirming the infamous Agenda 2020 by ex-President Kufuor and Co., the SWOT analysis, named ex-President Kufuor's Chief of Staff and the current Chairman of the NPP Finance Committee, Kwadwo Mpianim, as the main financier of Kufuor's subtle strategies against Akufo-Addo.

"He [Mr. Mpiani] is Kufuor's main point man in the agenda 2020 effort," the intercepted report read. Adding that "…he is the Chief financier and leader on behalf of Kufuor as was evidence in the manner in which he procured victory for Afoko and Kwabena Agyepong in Tamale. He is also the main backer of Afoko and Kwabena Agyapong at the National Executive level. Leaving him unattended would be a grave error. Unlike Kufuor, however, he is a legitimate target for public attacks. His many shady dealings as Chief of Staff which we have knowledge of should be made public through third parties. We estimate that being someone known to recoil from fights, he will watch over his shoulders when working against NADAA."

Meanwhile, eight other high-ranking individuals in the party have been specifically highlighted as people to be held with extreme suspicion by the Akufo-Addo campaign team. They include: Akufo Addo's arch rival in the race for the NPP flagbearership and a protégé of ex-President Kufuor, Alan Kwadwo Kyeremanteng, the NPP National Chairman, Paul Afoko, the party's General Secretary, Kwabena Agyapong; Dr. Richard Anane, a close associate of ex-President Kufuor, Francis Addai Nimo, the Member of Parliament for Mampong, former General Secretary of the NPP, Nana Ohene Ntow, Hilda Addo, an avowed Alan Kyeremanteng loyalist, and Dr. Arthur Kwabena Kennedy, a long-time critic of Akufo-Addo.
Two surprising names that made the list are Asantehene, Otumfuo Osei Tutu (II) and Dr. Nyaho Tamakloe, a founding member of the party.

According to the researchers, Otumfuo Osei Tutu is not an out and out politician " but capitalize on his overwhelming influence in Ashanti to court attention. He has managed to endear himself to the heart of the Mahama's [John Mahama's administration]. A relationship which has had mutual compensation for both sides. His influence continues to pose a major threat but cannot be diminished at least not under this dispensation. We need to learn to 'dine with a long spoon' whiles orchestrating other speaking engagements and rolling out initiatives which have broad national appeal for NADAA's chief."

It is unclear who this NADAA's Chief is, but there are speculations that it might be his chief from the Akyem area, Amoatia Ofori Panyin.

On a chilling note, the research concluded by saying: "notable NADAA supporters and operatives as Hajia Fati, Titus Glover, Gabby Otchere Darko and Captain Koda have been earmarked for attacks. Paul Afoko is particularly bitter about Gabby because of the 2007 incident involving him and Gabby and sees this as payback time. We have also received evidence including pictures of movement of weapons to locations close to some polling centers and the recruitment of thugs to execute this scheme. A number of thugs have already been identified and brought down to Accra from Tamale and Yendi to execute this plot. It is necessary to draw a web of security around the named individuals to forestall any eventuality. In the meantime, our own operational procedures for self-defense and counterattacks need to be firmed."
Source: The Republic