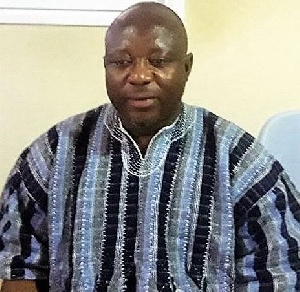 A regional chairman aspirant of the New Patriotic Party (NPP) in the Upper East region, Filson Awankua, has consoled NPP candidates who were let down in the recent race for executive positions at the polling station level and entreated them to use "the appropriate quarters" for amends.
The electoral exercise, held nationwide in the last week of January, this year, at polling stations and electoral areas, saw a sour turn of events as clashes erupted in the Upper West and Eastern regions over alleged sidestepping of electoral rules by some big shots.

Although complaints emerged strongly in the Upper East region after the conduct of the elections, with some fallen old executives claiming they were "unfairly" and "illegally" toppled to favour new entrants, that outbreak of anger did not sink into chaos.

Mr. Awankua, who likewise is in a tough race for the regional chairmanship title with four other titans of the party, appealed for calm in a statement he issued to the press.
"I would like to congratulate all those who emerged victorious out of the contest and to appeal to the unsuccessful contestants to continue to support the party in diverse ways as the party needs them now more than before. I was not surprised the entire process was peaceful with much co-operation and understanding because I know my people very well and they do not disappoint when it comes to issues like this," he said.

He added: "However, I would like to plead with those who in one way or the other are not satisfied with the conduct of the elections to use the appropriate quarters as prescribed by the party for redress. Let us remember that we belong to a political party with very high credentials when it comes to democracy. Therefore, we should not engage in acts that will bring the name of the party into disrepute."

Thousands of candidates took part in the elections at 1,227 polling stations and 353 electoral areas in the region. The constituency, regional and national executive elections are slated for the last weeks in February, April and June, this year, respectively.