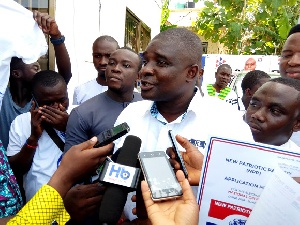 Mon, 7 May 2018 Source: Kwasi Frimpong
Something surprisingly happened at the NPP headquarters at Asylum Down on Monday morning, when Some youth organisers from some nine (9) constituencies in the Volta Region came together to purchase nomination forms for Kamal-Deen Abdulai, the national Nasara Coordinator of the party and aspiring National Youth Organiser.
Kamal-Deen had gone to the party's Asylum Down headquarters to purchase his nomination forms when Dzigbordi Ekpe, the party's Youth Organiser in the Anlo constituency appeared and pleaded with Kamal-Deen to allow him pay for the forms.

Surprised Kamal-Deen who could not hide his joy for the kind gesture in an interview with the media expressed his appreciation to the Volta region youth organisers for the kind gesture.

He stated that what the Volta region youth organisers have done is indicative of the decisive victory that will come during the Congress which will be held at Koforidua.
Mr. Dzigbordi Ekpe, the Constituency youth Organiser of Anlo Constituency who made the payment on behalf of his colleagues in an interaction with the media stated that the youth organisers in the Volta region believes in the competence of Kamal-Deen and knowing how tough the 2020 campaign will be, they believe Kamal-Deen is the best candidate to lead the youth front.

He stated that about nine constituencies from the region including Anlo constituency, Boakye Cobstituency, Krachi East and West, Nkwanta North and South, Adaklu Constituency among others came together to purchase the forms.

Kamal-Deen, the current National Nasara Coordinator is contesting for the National Youth Organiser of the party whiles the current youth organiser Sammy Awuku has decided to contest for the National Organiser of the party with the incumbent National Organiser John Boadu going for the party's chief scribe.
Source: Kwasi Frimpong