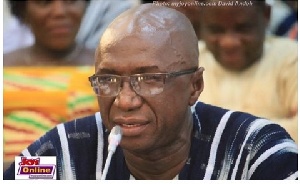 The Interior Minister, Ambrose Dery, has strongly repudiated assertions that the bloody intra-ethnic chieftaincy clashes in Bimbilla is politically motivated.
"I don't see anything political in this from where I sit," he said Thursday March 9, 2017 on the Morning Starr, adding "as far as I know…the Bimbilla and its environs, there are about 33 polling stations and in the last elections the Member of Parliament, Honourable Dominic Ntiwul won 27 of them—so we don't see a division of Bimbilla along partisan lines."

"So Bimbilla is united in our eyes…no side [feuding factions] are being supported by the government and the NPP for that matter and I'm not aware that any other party is supporting any other side.

As far as I know…I have shown you that the deployment has been across board…both sides…both gates, so as far as I know we are dealing with Bimbilla as a unit and we are solving the problem and protecting Bimbilla as a unit and we do not see…and should anybody have those ideas let us eliminate that. Ghana is bigger than the political parties," Mr. Dery told host of Morning Starr, Francis Abban.
Last month, Bimbilla descended into chaos following renewed chieftaincy clashes in the area leading to the loss of 13 lives and a refugee situation.

A situation, Mr. Dery attributed to the Bimbilla regent's flagrant disregard to cautions by both the Regional Security Council (REGSEG) and District Security Council (DIESEC) to defer the installation of a sub-chief in the area.