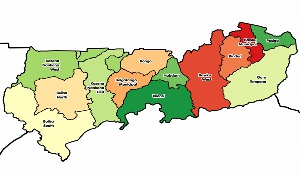 The overlord of the Kusal traditional area, Naba Abugrago Azoka II is appealing to President Akufo-Addo to consider creating a region for the Kusasis out of the Upper East region.
He believes the move is the only way massive development can come to the area.

The overlord made the call during this year's Samapiid festival in Bawku to thank God for a bumper harvest and peaceful coexistence.

The call comes days after overwhelming endorsements by the residents of the six proposed regions in the December 27, 2018 referendum.

The people of the Kusal traditional area led by the overlord, Naba Abugrago Azoka II backed by the seven members of parliament in the eastern zone of the Upper East region, therefore, want a region carved out for the seven districts in the area: Bawku municipality, Binduri, Pusiga, Bawku West, Garu, Tempane and Bawku East with a registered voter population above 222,000.

The Overlord of Kusal traditional area also used the occasion to warn residents in the area to stop the rampant bush burning.
He reiterated the need to get the Bolgatanga-Bawku road completed, and also appealed for more donations to his endowment fund that focuses on education.

The MP for Bawku Central constituency, Mahama Ayariga on behalf of his colleague MPs in the area commended the NPP administration for some on-going projects in the area as well as completed ones.

The MPs applauded residents for maintaining peace in Bawku and its environs.

There were also calls by the Bawku Naba for the elevation of Bawku West and Garu districts into municipalities, as well as creation of Binaba constituency from Zebilla constituency and Bawku North and Bawku South from Bawku Central constituency.