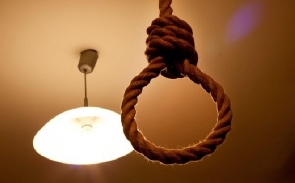 Despite calls for the decriminalisation of suicide, the police at Donkorkrom have tried to prosecute a 14-year-old girl who attempted to take her life.
The Donkorkrom Magistrate Court presided over by Augustine Akusa-am, who was not pleased with the police, expressed concern about their action noting that they should have rather provided the young girl with a counsellor after the investigations.

The traumatised class five pupil who tried hanging herself in her parent's apartment told the court that she couldn't stand the maltreatment from her elder sister anymore, hence her action.

She said her sister who was in charge of the house, had been physically and emotionally assaulting her anytime she committed an error at home.

She, therefore, took a cue from a movie she watched to end her life so she could be free from any mental torture and the unnecessary punishment at home.

According to a report by graphic.com.gh, the suspect tried to hang herself using a sponge on January 31, 2020 but neighbours who heard a strange noise from her room rescued her and rushed her to the Abundant Health Centre for treatment.

Upon finding out about the issue, the police went to the girl's house to arrest her, claiming they wanted to conduct investigations into what might have led her to take that action.
The magistrate who was surprised the police decided to charge her with the offence of attempted suicide without a consideration of what led to the action, ordered the Probation Officer who was part of the panel, to provide a social enquiry report on the suspect within two weeks.

This is to help the court arrive at a final decision when the suspect reappears before it on a later date

She was admitted to bail to reappear before the court on March 4, 2020.

The magistrate advised the young girl not to try taking her own life again as she could grow to become a prominent Ghanaian if she takes her education seriously.

He further advised the elder sister who shed tears occasionally during the trial to treat the suspect humanely so that she would lead a responsible life.