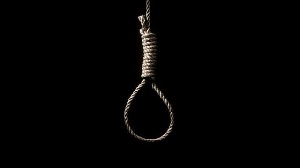 A young man believed to be in his 30s has allegedly committed suicide by hanging on the upper guardrail of the newly commissioned Presbyterian Church at Kwahu Mpraeso in the Kwahu South District of the Eastern Region.
The motive of the deceased is unknown, but sources claimed he purportedly took the action because of psychological problems.

The Mpraeso police went to the crime scene to convey the body to the morgue at the Atibie Hospital pending autopsy.
Meanwhile, the police have launched an investigation into the matter to ascertain the cause of death.