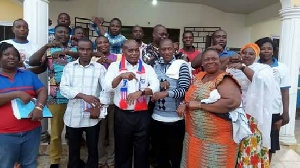 National chairperson hopeful of the governing New Patriotic Party (NPP) has taken his campaign tour to the Volta Regional with a message of hope for the great NPP.
Building a stronger party for victory 2020 and beyond with Good Welfare packages for all party executives, effective grassroots mobilization, Empowerment of the party executives and members, Recognition for party elders and members were his campaign messages.

We are also going to ensure that each constituency in the region is able to get a party office.

The Campaign tour took Stephen Ayesu Ntim through Central and South Tongu, Anlo, Keta, Ketu South, Ketu North and Akatsi South Constituecies.

Day two of his campaign tour took him to Akatsi north, Ho West, Ho central, North Tongu, South Dayi, Adaklu, Kpetoe-Ziope, North Dayi and Kpando
The rational behind the tour is to touch base with each constituency to plead with them to try him also as the chairman.

Ntim provided standard building plans to all constituency offices in 2004, as an initiative to ensure all constituencies have their constituency offices in 2004.

Additionally,he adopted the entire Volta Region by providing seed money to each of the then 19 constituencies,for the purchase of a building plot since there was no sitting Member of Parliament in any of the constituencies within the region at the time.

His vision was to ensure the party is visible and grounded in the region.